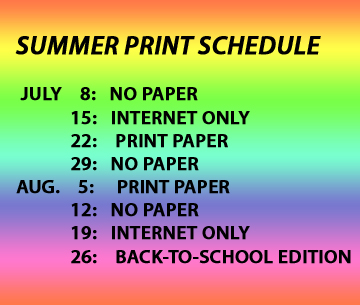 Well, vacation is over, but it's still summer, so there's that. We had a great week and it was hard to get back into the swing of things, but that's to be expected.
This is our ONLINE ONLY edition. The remaining summer schedule is posted below.
I plan to soak up as much free time as I can over the summer! I will be taking a few days off here and there, closing the "office" when I go. The "office" is my home office with my computers and my cell phone, so it's not too hard to do.
I will see you back in print next week, on July 22.
Cyndy Bremer, editor/owner
[email protected]; 978-897-7869
SUMMER PRINT SCHEDULE
 JULY    8:   NO PAPER
              15:    INTERNET ONLY
             22:    PRINT PAPER
             29:   NO PAPER
AUG.    5:    PRINT PAPER
            12:    NO PAPER
            19:    INTERNET ONLY
           26:    BACK-TO-SCHOOL EDITION
Clerk's Corner
 Are you registered to vote?
Are you sure?
Feel free to call the Town Clerk's office anytime to confirm voter registration.
 August 19, 2016 is the deadline to register to vote or change party enrollment for the State Primary on Thursday, September 8, 2016.
Voters can easily register on-line or by mail. Go to the Secretary of State website at www.sec.state.ma.us   and click on the On-line Voter Registration (OVR) system icon or download a mail in form. The mail-in form must be received by the local Town Clerk's office or postmarked on or before August 19, 2016. Voter registration may also be done at the Town Clerk's office during regular business hours.