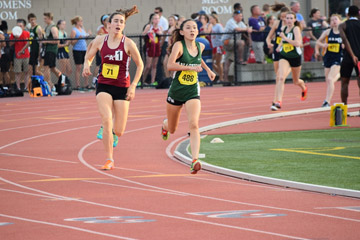 By Jess Thomas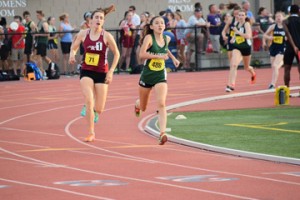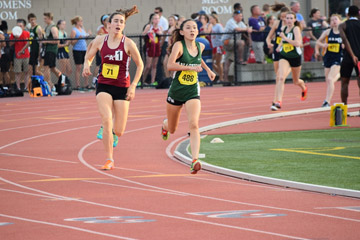 The Nashoba Boys and Girls track teams performed at a high level this seasonand each group had a couple of individual athletes who took their talents all the way to the MIAA All-State track and field championship and New England track and field championship.
     On the girls' side, led by coaches Dan Glover and Ben Langelo, the team went a perfect 6-0 in the regular season, winning the league championship.
    "Contending for the league title is the goal every year and we did a great job achieving it," Langelo said. "Our league has been really competitive over the past few years with quality opponents like Westborough, Marlborough and Groton-Dunstable."
    All three of those schools have won titles in the past six years and the Chieftains beat them 77-68, 81-64 and 87-58, respectively.
    "It's always a good feeling to beat good competition," Langelo said. "This is probably the deepest team we've ever had."
     Nashoba girls had over half of their 64 athletes qualify for the district meet, which is by far the most in Langelo and Glover's tenures as coaches.
     They placed third at the district meet, coming just a few points away from second place, led by senior Kristina MacLure and junior Erin McNemar.
     MacLure won the 200 and came in second in the long jump at districts and McNemar set a personal record with a high jump of 5-feet-2-inches, which was good for fifth at districts and she qualified for All-States.
    "We had a really good day at districts," Langelo said. "Our third place finish shows how talented our girls were this season."
    MacLure, sophomore Alex Bettez and sophomore Meredith Goad reached to greater heights and participated in All-States and New England's.
     MacLure finished sixth in long jump at All-States and came in fourth at New England's to finish off her high school career.
    "She set new school records in both events (200, long jump) this season," Langelo said of MacLure. "Just a phenomenal senior year."
    Bettez came in 14th place in the 800 at All-States and Goad placed fifth at All-States and eighth in pole vault at New England's with a personal record.
     Glover said, "Overall, the team was very successful as they worked extremely hard and were rewarded with strong placement in the district."
    On the boys' side, the team was 5-1 in the regular season, with the only loss coming to Westborough. They lost 93-52 to the Rangers and finished second in the league behind them.
    The Chieftains had good efforts against Midland B teams, with an 83-52 win over Groton-Dunstable, a 90-55 victory over Marlborough.
    The squad came in fourth in the class meet and then placed third in the state qualifying meet.
    "The reality checks were, as always, Westborough and the state qualifying meet," Nashoba coach Jim Nosel said. "It's tough when you do so well and then you run into everyone else's PR's."
Nashoba had four league All-Stars this year, with senior Wyatt Boelens, senior Kyle Cloutier, senior Travis Wold and junior Will Cruikshank taking the honors.
     At All-States, Boelens took second in the discus and Cloutier placed 11th in the 2-mile.
    Boelens ended the season with a 14th place finish at New England's in discus.
    It was a historic season for Boelens, as he set a school record in discus with a throw of 167-feet-10-inches during the regular season.
    "Overall it was a fun year," Nosel said. "Our motto was 'Do your best and don't get hurt' and for the most part it paid off."