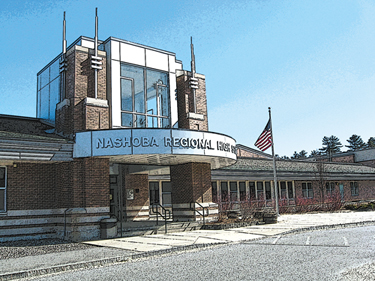 by Ann Needle  
With the Nashoba School District facing its biggest budget hike in 8 years, administration spent much of last Wednesday's School Committee meeting defending the proposal.
Detailing some of the factors included in the district's proposed 2015/16 budget, Assistant Superintendent George King pointed to an unpredictable spike in special education costs, along with a drop in school choice income.
King reported that rising SPED costs account for about 35% of the budget increase; the budget would be up only 3.5% without these increases.
"This is a budget buster for a lot of districts," King maintained of fluctuating SPED needs. "We haven't seen this in 12 years."
With the district now limiting school choice to Nashoba Regional High School, Nashoba reported out-of-district tuition income from the program dropped from $1,017,979 to $885,949 between 2014 and 2015.  King pointed out that the district will need to plan for a bigger gap as elementary and middle school grades grandfathered into the old policy begin graduating.
As for funding sources for the district's financial reserves, Nashoba's Excess & Deficiency ("free cash") fund averages a balance of about $2 million annually, with the district usually spending about $1 million on the budget. Though residents often ask why more of this could not be used to help lower the towns' assessments, King pointed out that the $1million not spent from E&D is the only reserve cash the district holds. He also mentioned that E&D is limited to 5% of the budget (about $2.5 million), with anything over that going back to the towns.
Looking at assessments, King maintained that the district kept its budget increases low over the last few years in order to help its towns recover from the economic downturn. Now, with a more robust economy, he said the district feels Bolton, Lancaster, and Stow are in a better position to help Nashoba recover from the budget sacrifices it made during that time.
King pointed to such examples of fiscal health among Nashoba towns as stability and even growth in their stabilization funds and free cash. He also asserted that, despite a stable number of students from Bolton and Lancaster over the past 5 years, the percentage of their budgets going to Nashoba has dropped. (Stow's percentage has risen, with more than 11% growth in students between 2010 and 2015.)
Bolton Rep. Lorraine Romasco remarked that she felt uncomfortable assessing the Nashoba towns' ability to contribute without having any town representatives speak to the SC first.
From the audience, Bolton Selectman Stan Wysocki reported that his town's free cash is now about $983,000, half what it was several years ago. The town must use about $515,000 of that in its 2016 budget, and will need to go to the levy (taxation) limit on its residents, he said.
Romasco also urged the district to re-consider its decision not to fund its OPEB trust this year. (Updated accounting standards call for municipal agencies to put aside money regularly for its retirees' benefits, aka "other post-employment benefits," though the standards are not yet the law.) Though SC Chair Nancy Federspiel of Bolton remarked that the budget didn't leave places to cut and make room for an OPEB contribution — currently targeted at $1 million annually — Romasco responded that 16 of the district's executives have a combined travel budget of $35,000.
"That's crazy," she commented.
Though Superintendent Michael Wood agreed to come back next meeting with a scenario that trims up to 3% from the proposed budget, he cautioned that, with personnel making up about 80% of the budget, it would be tough not to trim employees. "People don't want to talk about it," he said.
"My biggest disappointment is that we're getting a 5% increase, and we're getting nothing new," said Federspeil. Federspiel added that she had hoped to see some long-discussed programs in the plans, such as fully-funded full-day kindergarten and increased foreign languages.
Stow Rep. Maureen Busch added, "No matter what our increase is, it's something not everyone wants."
Wood reminded the SC that it must vote on the budget at its March 11 meeting.
 Next Year's Calendar Rolled Out
In another proposal for next year, Nashoba unveiled its 2015/16 school year calendar. Students would report to school on September 2 (Labor Day is September 7), and end on June 16, not including snow days. There are 7 early release days for professional development, along with 3 full-day PD days.
Michael Wood said that NRHS still is working on putting some late-start days on the calendar, in response to staff wanting more collaboration time with each other outside of classes. He added that these recommendations should be included in the potential calendar by the SC's next meeting.
While the Calendar Committee worked to make the school year as easy as possible on two-income families with young children, Committee Chair Monica Visco, Nashoba's Director of Human Resources, noted that the CC had a tough time dealing with parent/teacher conferences around November's two holidays, including Veteran's Day, which falls on a Wednesday. Though the proposal would follow Veteran's Day with a half-day of P/T Conferences on Thursday, and a full day of these conferences Friday, Visco said it was the best option for not breaking up more full weeks of class time.
 Snowfall(out)
Michael Wood stressed that the district's facilities have weathered the weather this winter fairly well. However, it was forced to pay out an un-budgeted $100,000 to clear snow off the schools' roofs, and the district must find somewhere in the budget to pay for it. Meanwhile, with so many snow days collected by districts across the state, Wood said that all MCAS exams through May will take place a week later than planned.