By Kristin DeJohn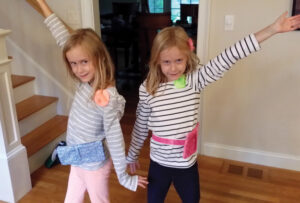 Each year, between 120 and 200 Massachusetts students face a life threatening event at school. They experience anaphylaxis – a serious allergic reaction with a rapid onset, which can result in death. The most common trigger is a food allergen, and the danger is so real for families who have children with life threatening food allergies (LTFA), that the Nashoba Regional School District is making changes.
"Currently there is no free-standing, dedicated policy for students with  LTFA," says Florence Sawyer School parent Becky Herberger. In September, Herberger, and fellow FSS parents Shawna Croteau and Tricia Pishock, who all have children with LTFA, formed the group Nashoba Food Allergy Education and Awareness (NFAEA) with the goal of improving awareness, prevention and management of food allergies throughout the District.
On January 28, NFAEA formally petitioned and received approval from the School Committee to help draft a dedicated food allergy policy to replace general procedures that currently fall under the District's Health & Wellness Policy. The group notes that nearly half the cases of anaphylaxis at school occur in the classroom, making it the highest risk area by far. They say existing policies don't go far enough to prevent and manage LTFA.
"According to a New England Journal of Medicine study, four out of six fatalities from food-induced allergic reactions occurred at school," Croteau told school committee members and supporters. "Avoidance is the only way to prevent accidental ingestion and a possible life threatening reaction."
The group was joined for the presentation by nationally recognized food allergy educator Jan Hanson, founder of Educating for Food Allergies in Norwell, MA, and author of the book Food Allergies: A Recipe for Success at School. Hanson provides consulting services and educational workshops, and offers guidance in the writing of school food allergy management policy.
Hanson points out that relying on treatment as a primary food allergy management focus can have tragic results. "In 2013, we had two Massachusetts students, who were outside of school at the time, who did not survive despite the use of EpiPens," says Hanson. "Every reaction is different and it's very hard to predict exactly how a reaction will play out."
 Understanding Food Allergies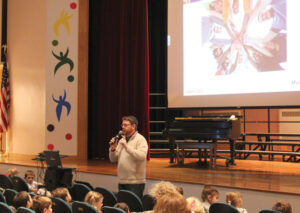 Hanson began her education crusade more than twenty years ago when her now-adult children were first diagnosed with allergies to peanuts, tree nuts, milk and shellfish.
Though any food can trigger a reaction, 90 percent of reactions are linked to peanuts, tree nuts, milk, eggs, wheat, soy, fish and shellfish. Symptoms can be mild or severe, ranging from gastrointestinal distress, vomiting, mild hives and facial swelling to respiratory and cardiovascular system involvement.
"There can be difficulty breathing, tightness of the throat, and if there is cardiovascular involvement, there can be a dangerous drop in blood pressure, and the person may become pale, disoriented, and lose consciousness," says Hanson.
Allergens are typically ingested accidentally, often unknowingly passed through small amounts of residue during cooking, cross contact or touching. "Trace amounts of an allergen are capable of causing a reaction if a person then touches their eyes or mucous membranes," says Hanson. Hand washing or using hand wipes effectively removes allergens, but simply applying hand sanitizer does not.
Herberger, whose two second graders are allergic to peanuts, tree nuts, eggs and a number of other foods, carefully controls which foods come into her home. When her girls go out, she wipes down surfaces, and friends wipe their hands. The average school day prompts a certain level of anxiety for Herberger. "I can pack their snacks, pack their lunch, train them not to share, etc., but if my girls accidentally touch the residue of an allergen and then touch their eyes, nose, or mouth, they could go into anaphylaxis, and this is a potentially life-threatening situation for both of them," she notes. Herberger has fully versed her children on how to avoid allergens.
Croteau's two children are allergic to a number of foods, so they only eat food brought from home, monitor their environments and ask classmates to wash hands after eating.
Pishock helps her daughter, who is allergic to peanuts and tree nuts, navigate challenges at school. However, controlling what other students do is difficult. And parents lament that as children get older, less regulated snacking puts them in greater danger.
"Teens and pre-teens are at higher risk of having a life-threatening allergic reaction compared to children of any other age," says Pishock. "It's also the age when many students do not want to stand out from their peers. This fear of being different can lead to at-risk behavior or increased anxiety about eating."
"Food allergies are a health issue that is ever present in the mind of a child with LTFA," adds Croteau. "It is important that we provide these students with both a safe learning environment and the emotional support they need to be focused on learning."
 Drafting Policy, Raising Awareness
On March 4, NFAEA members will attend a Policy Subcommittee meeting to begin drafting a new, comprehensive LTFA policy. The group is requesting that a new policy emphasize prevention and treatment, and fall in line with Centers for Disease Control and Prevention, as well as Massachusetts Department of Education recommendations. These suggest keeping a student's allergen out of classroom activities, including snack time, and creating individualized plans for LTFA students.
"We're reviewing five different school districts in the state," says Pishock. "The devil is in the details."  Herberger adds, "Everything we are doing in terms of advocating for children with life threatening food allergies, and getting a policy in place, is in hopes of preventing an unnecessary tragedy."
The group is also raising awareness by asking schools to educate students and staff.
At a recent Golden Eagle Assembly at FSS, Principal Joel Bates got the attention of 1st through 4th graders by recalling the mantra of the Super Bowl winning New England Patriots. "Do your job," he told the audience, as he gave them step-by-step examples of how they can keep fellow students safe.
Bates was being guided by an educational tool called 'Anaphylaxis Assembly in a Box' (www.anaphylaxis101.com), which he also plans to present to students in grades 5 through 8.  He wrapped up his remarks by motivating students to make a difference. "It takes a team," he said. "We help each other."
To learn more about preventing LTFA: www.foodallergy.org; www.kidswithfoodallergies.org; www.snacksafely.com