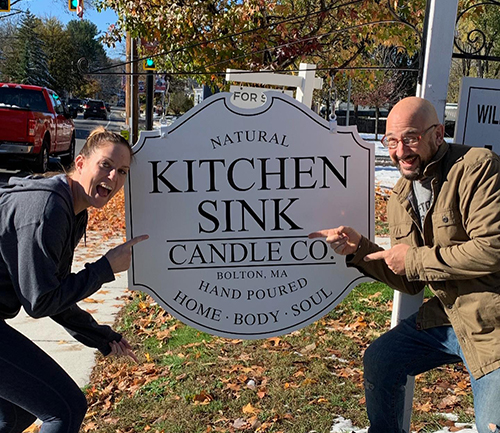 Kitchen Sink Candle Co. owners Liz and Matt Landry are making a move
Originally published Oct. 11, 2023
By Kristin DeJohn
If you're a business looking to expand into a new space and you have thousands of fragile products, what better than a move next door or across the street? That's the move the Kitchen Sink Candle Company is planning next month as it relocates from its Main Street location next to the Bolton Town Common to the red brick building across the street known as "The Old Brick Store." This circa 1820s building once housed a general store and a post office.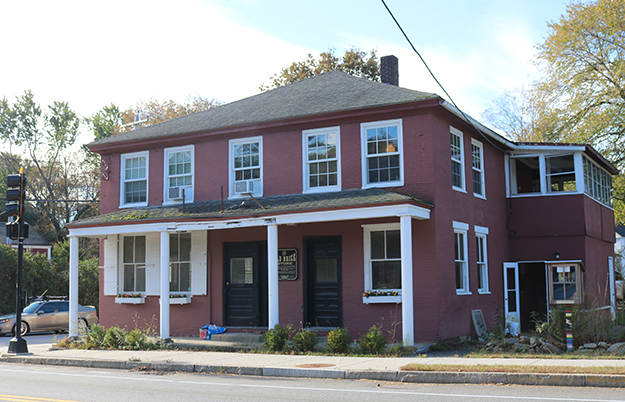 "We are just so excited to be in such a historical building and to actually have parking," said Kitchen Sink Candle Company owner Liz Landry.
The Bolton Independent had a chance to discuss the move with Landry and what customers can expect:
Q: Can you give us an overview of the move and when it's happening?
A: We will be beginning our move at the start of November, and hope to be up and running in the new location within a week or so – just in time for the holiday season! We have lots of exciting things planned for the new shop!
Q: What prompted you to look at relocating?
A: We have struggled with the lack of parking for the last year, and we have always loved that historic building across the street.
Q: How does the historic general store meet your needs?
A: One of our favorite things about being a part of Bolton is not only the history, but the rustic New England charm throughout town. Moving across the street will allow us to really capture the "Old General Store" feeling, while also bringing our own unique touch to it.
Q: What changes can customers expect?
A: We will be expanding our specialty foods section to include more "General Store" staples, and have plans to have a big penny candy section for all the kids (and adults!) in town. Once we get settled, we will also be opening up a "Candle Bar" in the new shop as well where people can come in and make their own candle!
Q: Can you elaborate on creating a general store atmosphere?
A: As far as general store staples, it'll take a little time for us to build up a solid inventory of General store food items, but we want to have a large specialty food section of as many locally made items as possible.
Q: How does a "Candle Bar" work? Do people create their own unique candles?
A: Yes people can create their own custom blend of scents to create a unique and one-of-a-kind experience!
Q: How has business been on Main Street in Bolton?
A: Business has been wonderful since the day we opened almost three years ago. The town of Bolton and all of the surrounding communities have been incredibly welcoming and supportive, and we love being a part of this town.
Q: Do you have any future plans or events you'd like to discuss?
A: We hold many 'Make Your Own Candle' events at local breweries near both of our shops, and are now hosting artisan workshops and 'Make Your Own Candle' parties in our Groton location.
Official notice boosts excitement
As renovation work is completed on the red brick building, there are two apartments on the upper floors and plans for another business tenant in the back of the first floor.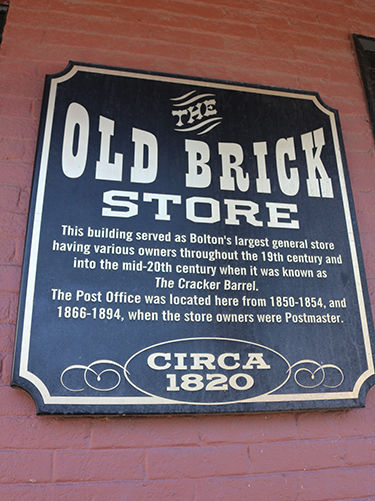 Landry, her husband and co-owner Matt, and customers are looking forward to the move. When Landry posted the official announcement on the company's Facebook page, customers responded with positive comments such as: "Awesome! I love your shop and can't wait to see what you do with your new space!" "Congratulations!! I'm excited for you, and also excited to FINALLY have the old Cracker Barrel building in use again!"
The building once served as Bolton's largest general store in the 19th Century and into the 20th Century when it was known as the Cracker Barrel. The owners also ran a post office out of the store at different times before 1900.
To learn more about the Kitchen Sink Candle Company and watch their future space, check the company's:
Facebook page: https://www.facebook.com/kitchensinkcandlecompany
Website: https://www.kitchensinkcandle.com/