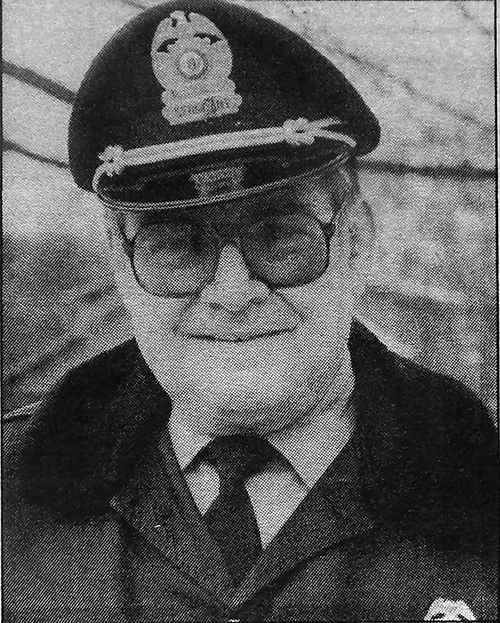 Compiled by The Bolton Historical Society
Information comes primarily from the Bolton Historical archives and Esther Whitcomb's
book "History of Bolton." The Historical Society articles run every other
week, with Roger Breeze's older columns running alternate weeks.
Originally published Sept. 22, 2016
By Roger Breeze
Milton 'Miltie' Osborne Baker
Bolton police officer
Feb. 25, 1927, to Sept. 18, 2010
Miltie Baker was a well-liked, longtime Bolton policeman who trained many new recruits and became a leader for the ambulance squad. His parents, Ruman and Adelaide Baker, and his four siblings had all been born in Nova Scotia before the family moved to Massachusetts, where Milton was born.

His wife was the artistic Eileen Fairbanks of Concord, whom he married in 1947. For many years he worked as a production manager for the Myerson Tooth Company. The Bakers moved to Bolton in June 1958 after purchasing their first Bolton home at 175 Main St. Almost immediately, Milt joined the Bolton volunteer fire department, and after Bolton purchased its first ambulance in 1965, he was the meticulous keeper of the ambulance records.
The selectman knew Miltie was in the tooth business and chose him for the police force to help "take a bite out of crime in Bolton!" Miltie joined the police force part-time in 1968, mostly working the night shift to help out Warren Wilson and Tommy Johnston, who often worked more than 80 hours a week. He would work here and then get up early to go to Cambridge for his full-time job. Soon, he had to make a big decision: whether to discontinue the commute and become a full-time policeman, or continue his current hectic schedule. It was a difficult choice, because quitting his current job would be a considerable loss of income for his family. In the end Milton chose to become a Bolton police officer.
Miltie was good-humored, humane, meticulous and compassionate; all dream characteristics of a police officer. He would often explain to everyone that his job here was "to help people." During his tenure here, he saw Bolton's population more than double.
One Bolton parent remembers calling the police when her son swallowed a marble. After the operator confirmed that all was well, Milton stopped by a few hours later to make sure that the little boy was doing okay.
During his time in Bolton, Milt performed many duties on road patrol, some felony cases as well as a few criminal investigations. He served Bolton well as a policeman, fireman and a member of the ambulance squad.
After 20 years of service, he and Eileen decided it was time to retire and sell their home at 299 South Bolton Rd. and move permanently to their summer home in Alexander, Maine. The Police Association hosted a grand retirement party attended by more than 250 friends and many politicians. One of his favorite gifts was a "Tell them Miltie sent you" T-shirt!
The Bakers moved to Maine in 1991, which was the place Miltie truly loved the most. Both Eileen and Milton are buried in Maine.
With thanks to the Bolton Historical Society, The Bolton Common and the memories of Barbara Brown.