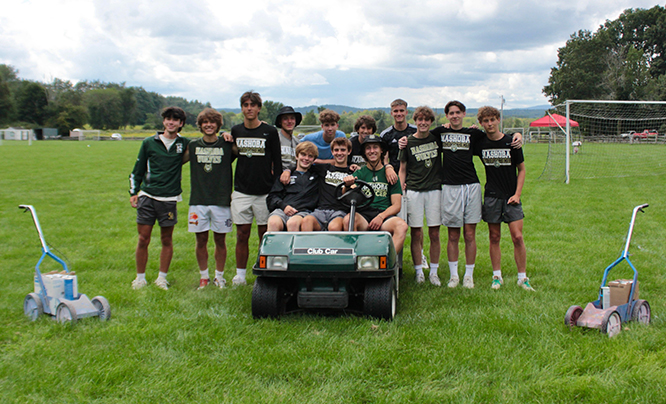 Nashoba High School Boys Soccer team members helped with the field prep for the Bolton Youth Soccer Association (Courtesy photo)
By Michael James LeClair
BOLTON – There's plenty of excitement surrounding the Bolton Youth Soccer Association as it embarks on the 2023 fall season.
Danielle Bradbury takes over as the BYSA President this season, replacing longtime president Tom Guyer who held the position for over two decades.
"I feel the program has always been really well-run and well-organized. The level of consistency has been nice. My goal is to make this program as strong as it can be," said Bradbury during an interview on Saturday afternoon at Nashoba Regional High School. "We are seeing stronger talent at the younger levels. There's been a real spike in interest at the younger levels. Kids want to get out and play any chance they get."
According to the new president, the association will be erecting a shed at Bolton's Forbush Mill Field and naming it after Guyer.
"Tom has been involved in some capacity for 20-plus years. He's been the president since I've been here," said Bradbury, who has been involved with BYSA since 2017. "He's done so much for this program. He's had a great run. We couldn't rename the field after him, that's a Parks and Rec thing, but we can definitely name a shed after him."
Bradbury went on to say that there will be several changes this season.
"We made some drastic changes to the age divisions this year. We made grades one and two co-ed and each its own division. We changed to six-versus-six with goalies at that level," said Bradbury. "We made the change to encourage more cohesion. We are hoping that by getting equal playing time, it will build that cooperation between genders. We had a great field prep day and many of the Nashoba Regional boys' soccer players came out to help us."
The league, which begins playing games on Sept. 9 and will play to the end of October, includes an in-town and travel program, with players from Pre-K through the eighth grade, according to the new president.
"We have 361 kids in the program this year and that's up from years past. We usually hover around 340 to 345," said Bradbury. "So that shows that the program is growing, which is great to see."
They say it takes a village to raise a child, that also holds true when it comes to running the BYSA. Bradbury is one of many board members volunteering to make the association better for the athletes of Bolton. Some of the board members include Becca McBreen (Vice President), Tanja Fischer (Registrar), Kate Cameron (Risk Manager), Erin Schweppe (Secretary), Tatiana Farberova (Treasurer), Johnathan Schwartz, Lisa Shepple, Jamie Prudente and Mary Cusak.
"We're very excited for the start of the new season," said Bradbury. "I'm excited for the changes and to get the feedback as well. My big thing is that you can't change what you can't measure and you can't measure what you don't collect."
For more information on the Bolton Youth Soccer Association, please visit their website at www.boltonsoccer.net or find them on Facebook.