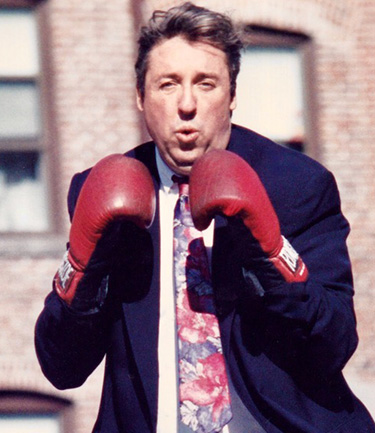 George McQuilken, technology innovator and entrepreneur, dies at 80
Services: Monday, Aug. 14 and Tuesday, Aug. 15
George Clifford McQuilken passed away peacefully on Aug. 9, 2023, at the age of 80. George, in recent years a resident of Bolton, Mass., was born in Cambridge, and grew up in Somerville, where his father was a police officer and his mother was a hairdresser. He was at different times a resident of Weston, Marblehead, Amesbury, Bedford Village NY, Portsmouth NH, Spring TX and Boulder CO.
George was an innovator in computers and technology, having served early in his career as the Editor of the IBM Systems Journal. He was also an entrepreneur, who founded and led several technology companies focused on microcomputers, distributed processing, software and cybersecurity. In his later years he supported innovation as an angel investor and was instrumental in founding the e-coast angels investment group based in Portsmouth, NH.
At 6′ 5″, Big George was a lifelong athlete, playing basketball at St. Clement High School in Somerville, and later for MIT, where he also rowed crew and graduated in 1965. He was an amateur boxer and kickboxer, at one point holding the title of U.S. Masters Heavyweight Kickboxing Champion (by default! – no takers). He was a member of the Boston Beanstalks Tall Club and was once selected as "Mr. Tall Boston". He had a personality that matched his stature and was known as the life of any party, sometimes sporting a kilt. With a jovial spirit and a joke always at the ready, he made many friends along the way.
George was also committed to civic involvement, serving as a board member at The Germaine Lawrence School in Arlington, and as a Director for the New England Region of the Volunteers of America. He also served periodically as a writer for his local newspaper and taught as an adjunct professor at both Boston University and the University of New Hampshire.
George was a loving father to his three children born to him and his former wife, Jeanne McKnight – Lucy McQuilken (Charles Agosta) of Harvard, MA, Annie McQuilken (Gregory North) of Fairport, NY, and Angus McQuilken (Diann Slavit Baylis) of Marblehead, MA. George also leaves behind his beloved sister Joyce Harty, his brother Douglas McQuilken, his sister-in-law Shifa McQuilken, his friend since third grade, Gerard Kiley, and twelve grandchildren. George was predeceased by his mother Thelma McQuilken, his father Clifford McQuilken, and his brother Barry McQuilken.
A wake for friends and family will be held on Monday, Aug. 14 at Dee Funeral Home, 27 Bedford Street in Concord, Mass., with visiting hours from 4 to 7 pm.  A service and celebration of George's life and legacy will take place on Tuesday, Aug. 15 at 11:00 am at the Harvard Unitarian Universalist Church, 9 Ayer Road in Harvard, Mass., with reception to follow. Burial will take place privately at Mount Pleasant Cemetery in Sudbury. 
Donations in George's honor can be made to the "George McQuilken Research Fund" at the University of New Hampshire (℅ Center for Venture Research, UNH Foundation, 9 Edgewood Road, Durham, N.H. 03824.
Arrangements are entrusted to Dee Funeral Home & Cremation Service of Concord. To share a remembrance or to offer a condolence in his online guestbook, please visit www.DeeFuneralHome.com.