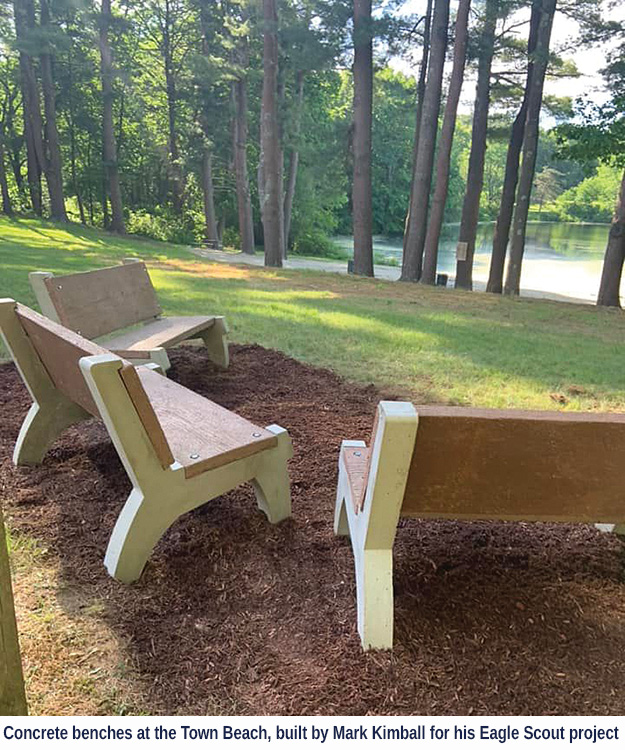 By Kelsey Griggs
Troop 1 Bolton, an active and dedicated Boy Scout troop sponsored by The First Parish of Bolton, has positively impacted the local community through several projects. Led by their passion for service, the Scouts have undertaken various initiatives, with several completed and others underway.
Michelle Dowds of Bolton said the troop meets weekly throughout the school year. Dowds also said Troop 1 meticulously plans and executes at least 10 scouting events annually, including multi-night camping or hiking trips. Additionally, the scouts come together for week-long summer camps at Camp Wannocksett in N.H. and Treasure Valley in Rutland, Mass.
According to the Boy Scouts of America website, members can attain seven levels of achievement, known as ranks. These include Scout, Tenderfoot, Second Class, First Class, Star, Life, and Eagle. Dowds said, "Eagle Rank is the highest rank a scout can achieve, and the Eagle project is one component of achieving that rank. Eagle projects cannot benefit the troop or BSA (Boy Scouts of America) but often benefit the local community."
As Life Scouts, each member works diligently on the various requirements, including their Eagle project. Once all the prerequisites are fulfilled, the scouts undergo a crucial Board of Review, said Dowds. During this process, adult members of the Troop, representatives from the local BSA Council, and community members thoroughly assess all the work the Scout has undertaken towards achieving the Eagle Rank, continued Dowds. Only after successfully passing this review are the scouts granted the title of Eagle Scout.
Dowds provided examples of the various Eagle Scout projects, "Since the start of COVID, Troop 1 has had several projects completed with several more underway."
Eagle Scout George Robertson recently meticulously refinished and repaired the clock on the First Parish clock tower, a cherished historical landmark in Bolton.
Eagle Scout Mark Kimball built concrete benches at the town beach, providing comfortable seating for residents and visitors alike.
Life Scout Milan Siano's efforts were devoted to refinishing the baseball diamond at Memorial Field, ensuring a safe and enjoyable space for athletes and spectators.
Life Scout Calvin Dowds took on constructing a new bridge and installing signs at the Taggart Property.
Life Scout Camden Bettez is currently spearheading the installation of erosion control measures at Bower Springs.
Life Scout Leo Ambrose supports several Bolton seniors with a dedicated crew performing yard work and repairs.
Troop 1 Bolton, led by Matt Bosselait (Eagle Scout Coordinator) and Chris Siano (Scoutmaster), are committed to promoting character, leadership, and citizenship while positively contributing to their community.