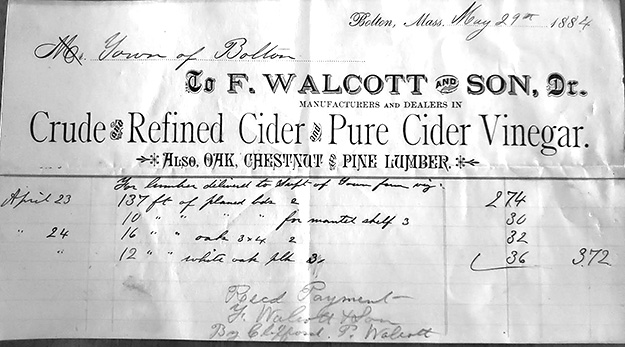 Bolton History stories compiled by The Bolton Historical Society
Information comes primarily from the Bolton Historical archives and Esther Whitcomb's book "History of Bolton." The Historical Society articles run every other week, with Roger Breeze's older columns running alternate weeks.
Century Mills
Gristmills for grain, sawmills for lumber, fulling mills to make cloth, and mills for making cider were vital to the farming, commercial and social life of early New Englanders. Now long gone, you can still find traces of the mills in ponds, dams, and foundations around Bolton.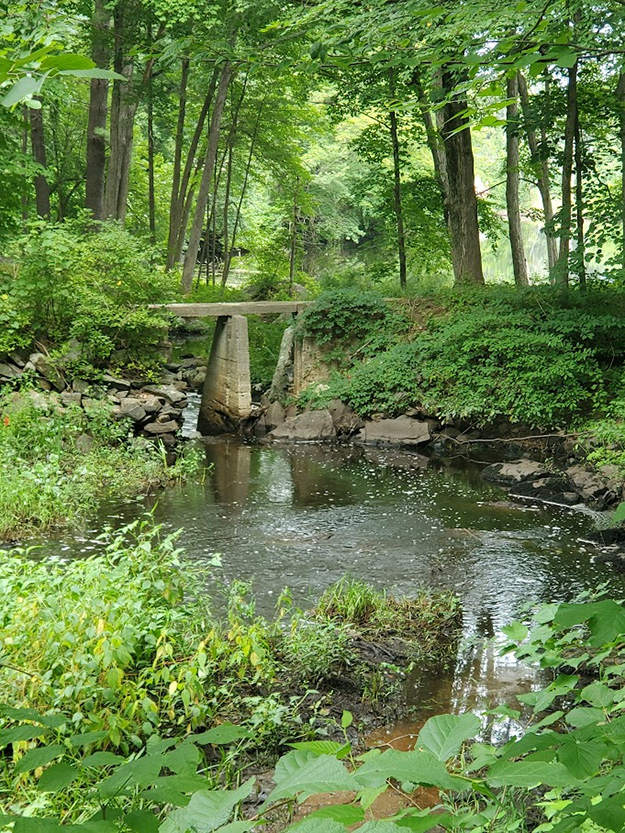 The earliest saw and grist mills dating back to when Bolton was still part of Lancaster were on the site of what was once known as Pollard's Mills, later Walcott's Mills, and finally Century Mills (the name given for it being very old). The mills are now gone, but the mill pond, with two stone and concrete dams, and much of the fieldstone and cut-granite mill foundations, wheel pits and races remain on Wattaquadock Brook as it flows west to east of the area that can be seen along Century Mill Road and at the corner of Century Mill and South Bolton Roads. The pond is one of several man-made ponds in Bolton that were created by blocking the town's streams with stone or mud sill dams.
According to a record of 1699, Steven Waters deeded 151 acres to Thomas Sawyer, a blacksmith of Lancaster who built a dam and ran a mill somewhere nearby on Wattaquadock Brook. The 1739 will of Joseph Sawyer refers to 25 ¾ acres of land on the easterly side of Pine Hill being near where Thomas Sawyer "hath built a mill," as well as a house. The house is gone, but its cellar hole has been identified in the yard of 197 Century Mill Rd. The will also refers to "ye Corn mill and ye saw mill," and mentions 20 acres "near where ye old saw mill stood on Wadaquadock Brook." It appears that the multiple spellings of "Wattaquadock" goes back centuries!
The Sawyer family ran both a sawmill and gristmill for corn here on the brook until the late 18th century, deeding the mills, pond, and surrounding property to Amory Pollard, Thomas Sawyer's assistant. It was Amory Pollard who built the house at 197 Century Mill Rd. Pollard, and later his son, ran the mills, adding a cider mill. Amory Pollard, Jr. sold the mills to Freeman Walcott of Milford in 1865. Along with his son Clifford, Walcott operated the mills for 24 years, operating the sawmill and gristmill with waterpower, but the cider mill with a steam engine.
In 1961, Clifford's daughter, Ruth Walcott, gave a talk at a Hudson Historical Society meeting in which she told many stories of Walcott Mills. According to Walcott, the cider mill did a flourishing business. Her sister remembered people going to the mill to get sawdust, and she would hold the bags open for the customers, receiving pennies as a reward. She also remembered when the meadow land was flooded so that, in winter, she was able to skate almost all the way to school.
A succession of owners followed Walcott after 1889, with the last owner being George Bacon, who bought the mill in 1916 as a rural retirement home, operated the sawmill and gristmill for a short time on an experimental basis.