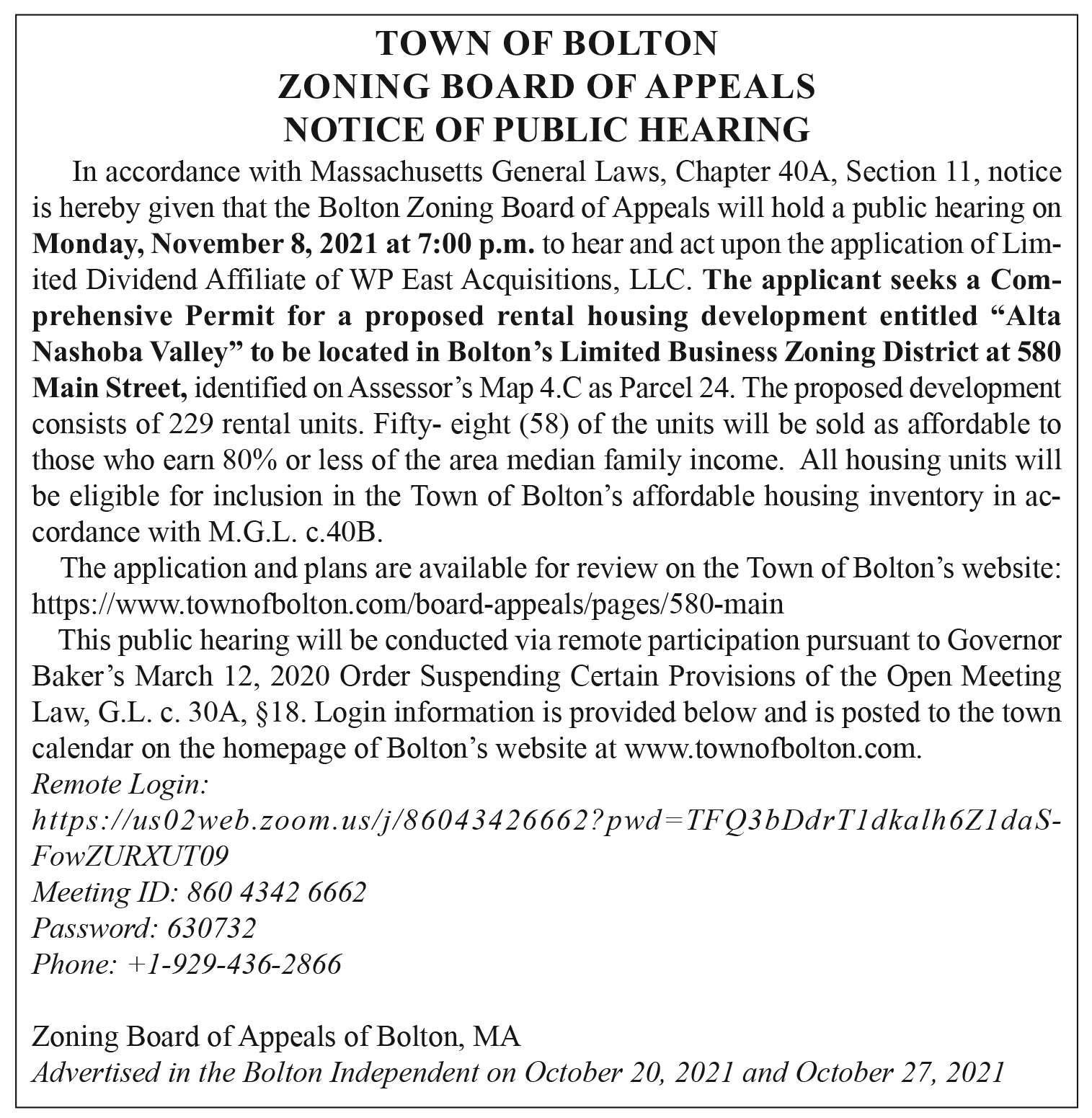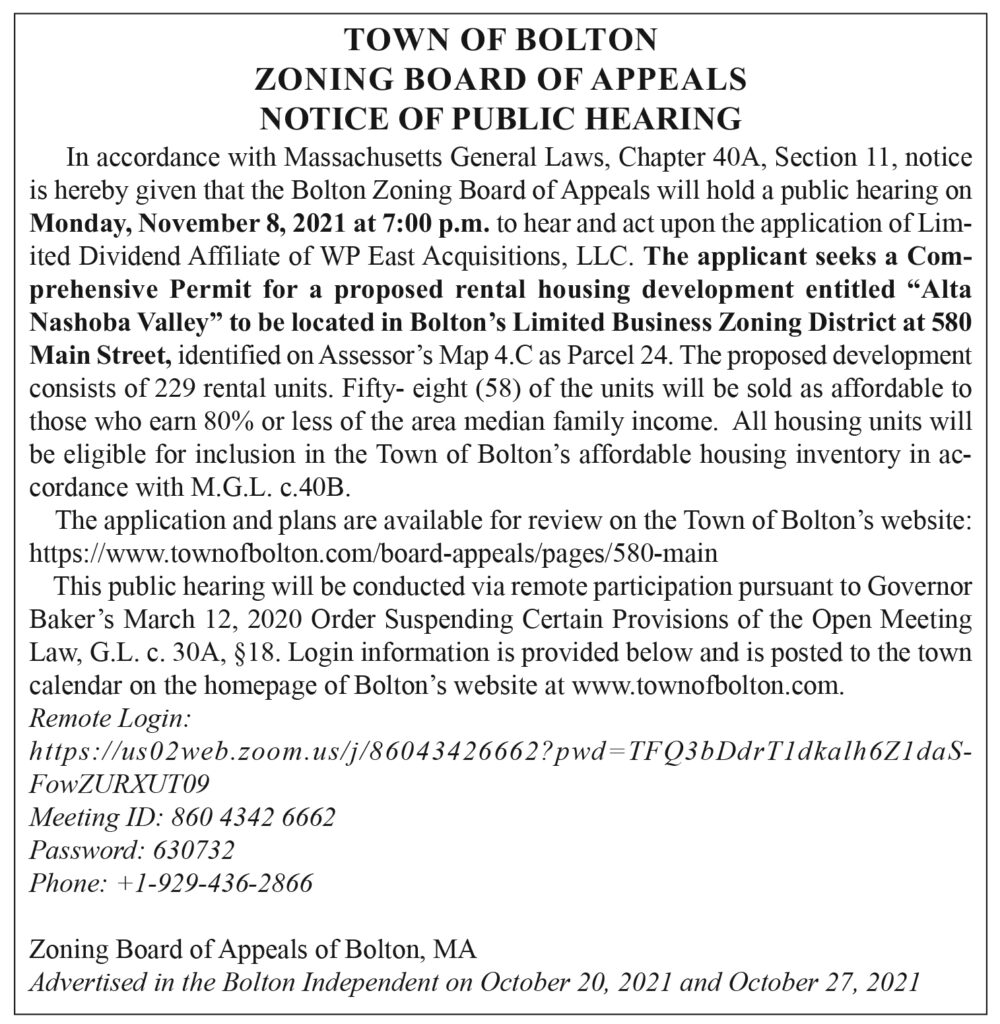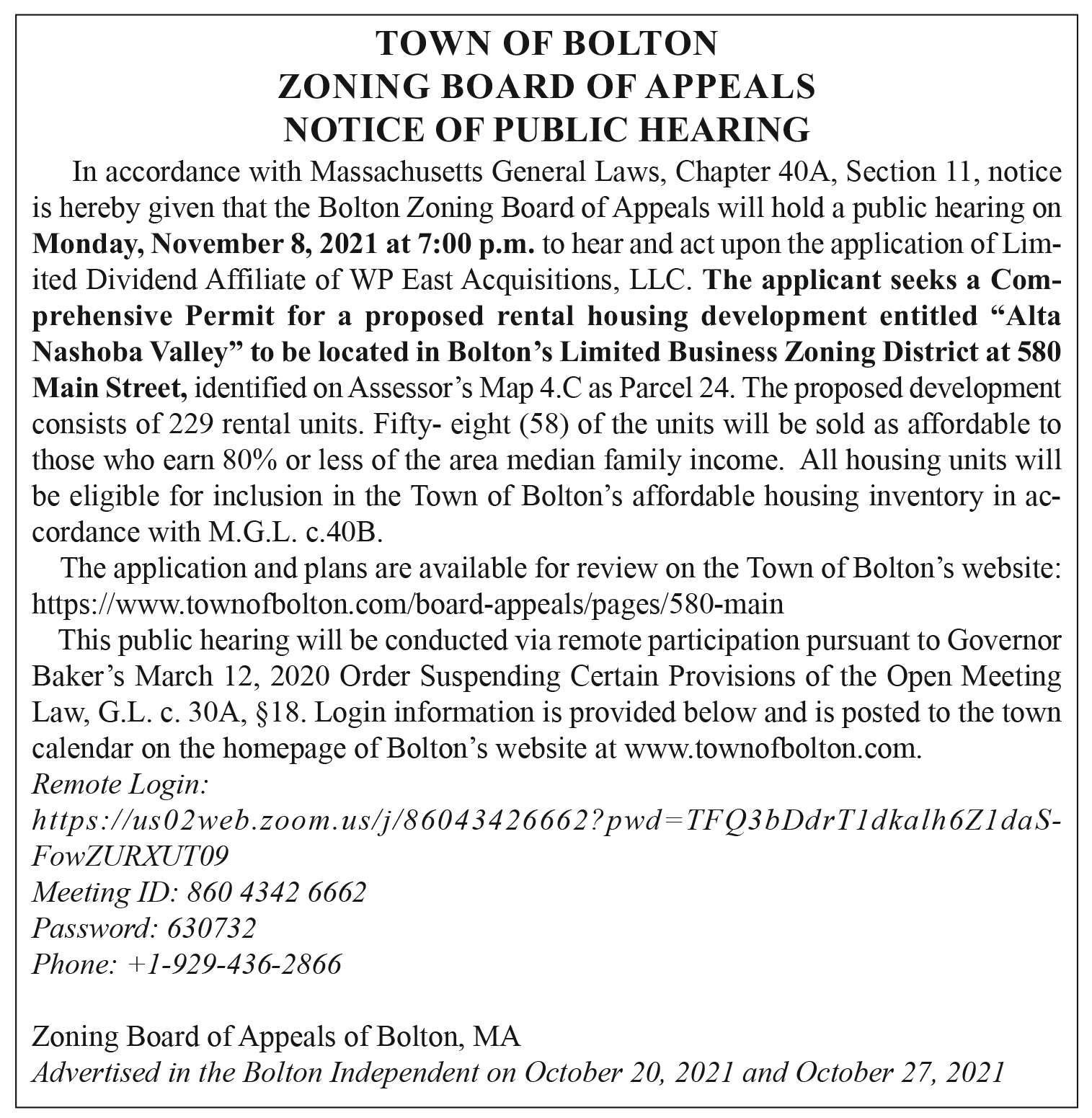 by Nan Shnitzler
As the developer of a large affordable apartment complex prepares to go before the Bolton Zoning Board of Appeals (ZBA) for a permit Nov. 8, two issues of community interest remain unresolved: whether the projected tax revenue will offset the service burden on Bolton's public safety, public works and school systems, and how access to the Community Gardens will be able to continue.
Managing director Jim Lambert of developer Wood Partners talked about these concerns and more at a second community meeting Nov. 4 via Zoom. Eighteen residents tuned in, versus 30 at the previous meeting held May 11.
The complex at 580 Main St., known as Alta Nashoba Valley, will consist of 229 luxury rental apartments at Bolton Office Park in a mix of one, two and three bedrooms plus a clubhouse and a mail and package building. One of the office park's "pods" will be demolished to make room for the six new buildings.
One-fourth of the apartments will be rented at affordable rates, but per Chapter 40B, the state affordable housing law, all will count towards Bolton's affordable housing inventory, thereby allowing the town to control further 40B housing for the time being. Per 40B, affordable units are set aside for those earning up to 80 percent of the area's median income.
Lambert noted several upgrades to the plan since the May 11 meeting, spurred in part by resident input. The largest residential building, with 74 units, will now have an elevator, which will be attractive to an older population and anyone with issues navigating stairways. The four residential buildings are three-stories, and elevators are not required by code, Lambert said. Another change is sidewalks will be added to the existing entry drive that connects to Main Street and extend east toward Clinton Savings Bank.
On the green utilities front, Lambert said his firm had been committed to electric HVAC, but since May, decided to go full-on with a "hyper" heat pump system that is more powerful. Also, solar panels will be added atop the two larger U-shaped residential buildings. Electric vehicle (EV) charging stations will be available day one, but Lambert didn't specify how many.
Tony Jagodnik of East End Road has a particular interest in green energy and asked several detailed questions about electric hot water and cooking, geothermal energy, heat recovery and fresh air ventilation. Lambert referred most of the questions to his consultants, and they agreed to share information offline. Lambert said that everything would conform to the extra-efficient stretch energy code, which Bolton adopted in 2016.
Jagodnik asked about noise from nearby Interstate 495. Lambert said that many Wood Partners developments are built near highways, but not so close that noise has been an issue, and he didn't expect any problems here. Post-permitting, Lambert added, they often do an acoustical study to see if there's a need to "bolster" windows or walls.
ZBA member Brad Reed and Wilder Road resident Vaughn Mackie asked whether the estimated $700,000 tax contribution would be sufficient to cover services. Reed said Bolton's average house paid upwards of $10,000 in property taxes, but based on the estimate, each apartment unit would generate only about $3,000, "putting us in a hole." Mackie said that the complex could easily house enough school children that, given the cost of education at $12,000 a head, the tax contribution would go to education with no offset to public safety or other services. Mackie wanted to know when data would be available for the town to know if the development has been modeled to be a net financial benefit or burden to the community.
Lambert said they didn't include a fiscal impact study as part of the permit application because it's not a typical part of the submission. He said it would likely come up early in the ZBA process, and it would be addressed when the board asks for it. Lambert acknowledged it was a "difficult thing to model," and they have differing estimates of the number of school children.
"Frankly, we don't model the projects vs. the costs projected to certain things in the town," Lambert said. "It's not part of our process at this point."
Bolton Parks & Recreation Chair Ed Sterling said that with 141 two- and three-bedroom units, there could be from 150 to 200 children, and when they come home from school, "some kind of playground will be necessary." Thinking of kids who might want to seek "a candy bar and a Coke," he worried that trying to access the Country Cupboard from west of the interstate would be dangerous.
Lambert said Sterling's points were well taken and acknowledged amenities for kids were probably lacking. He said he travels Route 117 frequently enough to understand the bottlenecks. He did say a full traffic study has been completed and is part of the comprehensive permit application. Sterling asked whether a convenience store could be set up in the complex. Lambert said it was a "great premise" that never worked out in reality because of local permitting, staffing, competition and so on. He proposed vending machines in the clubhouse "so people don't have to go offsite for certain things."
Access to the Community Garden and adjacent sports fields remains a conundrum because the buffer zones around the wells have strict prohibitions. What is possible now, Lambert said, is vehicular access around the west edge of the property that connects to an existing drive. There is parking space for about 32 cars, but there would still be a significant walk to the gardens and the fields.
"We will provide access, we just need to figure out the best way because there are not too many options given the constraints of site," Lambert said. "We know it's important."
The Select Board had endorsed the project with the state Department of Housing and Community Development, which issued a "project eligibility letter" in August. Once the letter was in hand, Wood Partners could apply to the ZBA for a comprehensive permit and did so on Oct. 14. The comprehensive permit application is available on the Town of Bolton website under Board of Appeals, Current Projects.
Lambert showed a slide of the ZBA public hearing notice and urged everyone to attend via Zoom. It will be the first formal opportunity for public comment, he noted.