Posted Dec. 26, 2020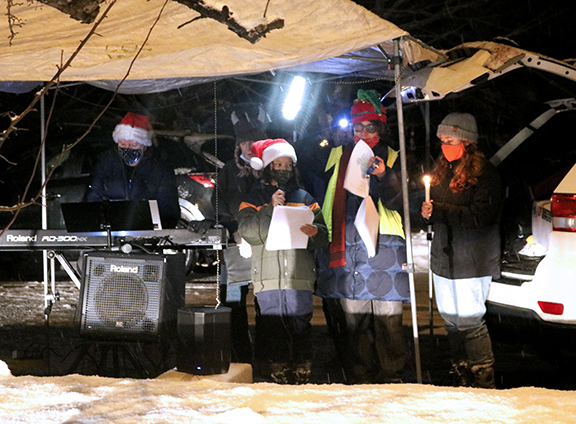 By Kristin DeJohn
On Sunday, Dec. 20, Bolton was treated to Christmas CARoling of a different kind. Organized by Bolton's Suzy Becker, residents were invited to the parking lot of the Bolton Office Park on Main St. to participate in a free car concert, coordinated with a downloadable music songbook. Participants were encouraged to decorate their cars and themselves in holiday style and bring some bells and candles to add to the festive songfest.
Despite an electrical short in the sound equipment, the show did go on thanks to a spirited holiday car crowd and a quick trip home by Roland Ochsenbein who provided an amplifier. Becker led the event, with Ochsenbein on keyboard, Martha Remington leading the first songs and Florence Sawyer School student Benjamin Wilkinson performing several solos. Attendees sang from their cars with lyrics that had a humorous twist on the originals, such as "Bark the Herald Angels Sing."
Becker credits Ochsenbein, Joel Bates, Martha Remington and Kathy Romeo for on the scene assistance and Elizabeth Edwards and MaryAnn Fitzgerald for publicity. This isn't Becker's first car lot organizing since the Covid-19 pandemic limited gatherings. "It was an extension of the International Synchronized Driving Association's spring/summer season, wherein members performed three synchronized car dances in the same parking lot," noted Becker, who also led an Easter car parade through Bolton. Attendees of the CARoling event were treated to a cameo by the bicycling Bolton Bear.
(Images by Kristin DeJohn)