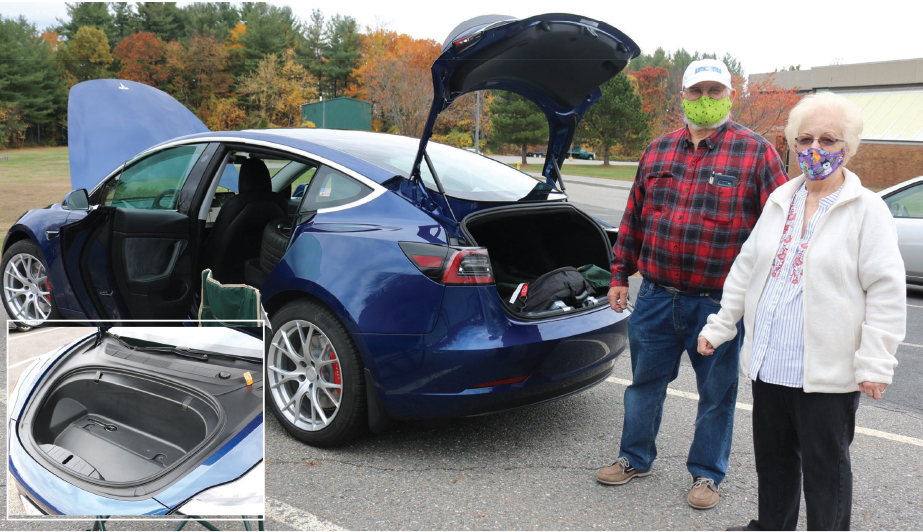 Published Nov. 4, 2020
By Kristin DeJohn

When Bolton resident Tim Vecchiarelli drives to work, he is among a growing number of area residents who are bypassing traditional gas stations.
"I'm trying to eliminate all the gas engines I can," said Vecchiarelli, who is thinking beyond just his personal vehicle – an all-electric Mercedes-Benz B250e. "My weedwacker is electric. My snowblower, believe it or not, is electric. My next thing is changing out the lawnmower."

Vecchiarelli joined other area residents who drove their cars to be part of the 2nd Annual Auto Innovation Show, held Oct. 24, at Nashoba Regional High School. The event, organized by the Lancaster-based non-profit organization Nashoba Valley Climate Coalition (NVCC) with assistance from the Sierra Club and the Green Energy Consumers Alliance, was designed to bring area electric and hybrid car owners together to show off the latest technologies, designs and to learn about rebates and incentives.

"The average American car is 11-years-old," noted NVCC President Natascha Finnerty. "We want to introduce the public to these affordable, peppy, and low maintenance cars."

Getting the equivalent of more than 100-miles per gallon attracted Bolton resident Tony Jagodnik to his electric vehicle (EV) – a 2020 Tesla Model 3 with sports-car performance add ons. "We have solar at home so we get even better mileage than the listed amount," said Jagodnik. "I leave it plugged in overnight. It's always charged in the morning and it doesn't cost anything."

Bolton resident Sharon Shepela was happy to show her 2017 Toyota Prius Prime plug-in hybrid, which combines electric with gas: "It goes about 28 miles on a full electric charge then transfers to the hybrid model." While conventional hybrid cars charge a battery while running and require gas, the plug-in hybrid vehicles offer a larger battery and can run on pure electricity for a distance before switching to gas power or an additional charge.

"It has gone 28,395 miles and is averaging 94.2 miles per gallon," added Shepela. "I plug it into a regular 120 plug."
Charging Ahead

"They are everywhere," said Jagodnik about the expanding network of EV charging stations.
Charging station maps show locations in Hudson, Lancaster, and various other adjoining communities. NVCC is in discussions with the Nashoba Regional School District and the town of Lancaster, which has EV charging at its Town Hall, to add additional chargers, including three at Luther Burbank Middle School by the summer of 2021.

"A lot of people also use the schools on the weekends for soccer games so we wanted to have chargers available when people are staying an hour or more," said Finnerty.

In a separate effort, Bolton Town Administrator Don Lowe has been pursuing a goal of installing a charging station at the Bolton Public Safety Building. "I started the effort because we are a Green Community and I know this is something that residents would like to see," noted Lowe, who has had preliminary discussions with National Grid and the Bolton Police Department. "I'm still working on costs and what and how motorists would pay. That will all be part of the final analysis."

All groups interested in purchasing charging stations or vehicles have grants and various other incentives that factor into final costs, as do future savings.

The Massachusetts Sierra Club has been instrumental in advising NVCC on federal tax credits and the best ways to purchase electric and hybrid vehicles. "Transportation is the largest source of emissions in Massachusetts," noted Veena Dharmaraj, Massachusetts Sierra Club Director of Transportation. "Electrification of our buses, trucks, and cars is a crucial solution we have today to protect the health of our most vulnerable communities and meet our climate goals."

Banking on Technology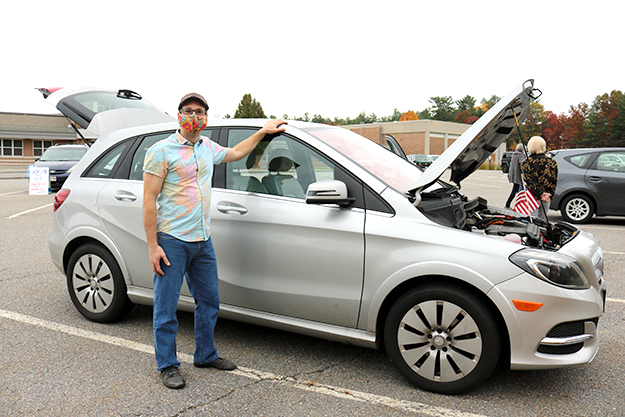 While many electric vehicles can drive more than 200 miles on a charge, Tim Vecchiarelli says he didn't need that and opted for one that runs 120 miles per complete charge. "I love it," he said, "My commute to work is only 19 miles." Vecchiarelli, who was part of Solarize Mass Bolton in 2017, is looking to add newer technology: a solar battery installation that can store the solar-generated energy. "We got a 4.7 kilowatt (22 panels) array put on then [in 2017]. It works out perfectly," he said, except for when the power goes out and the electrical grid is down. "An upgrade we are looking at in the future is a battery pack. Then you can switch over to the battery the same way as you'd switch over to a generator but you just don't have to have the gas."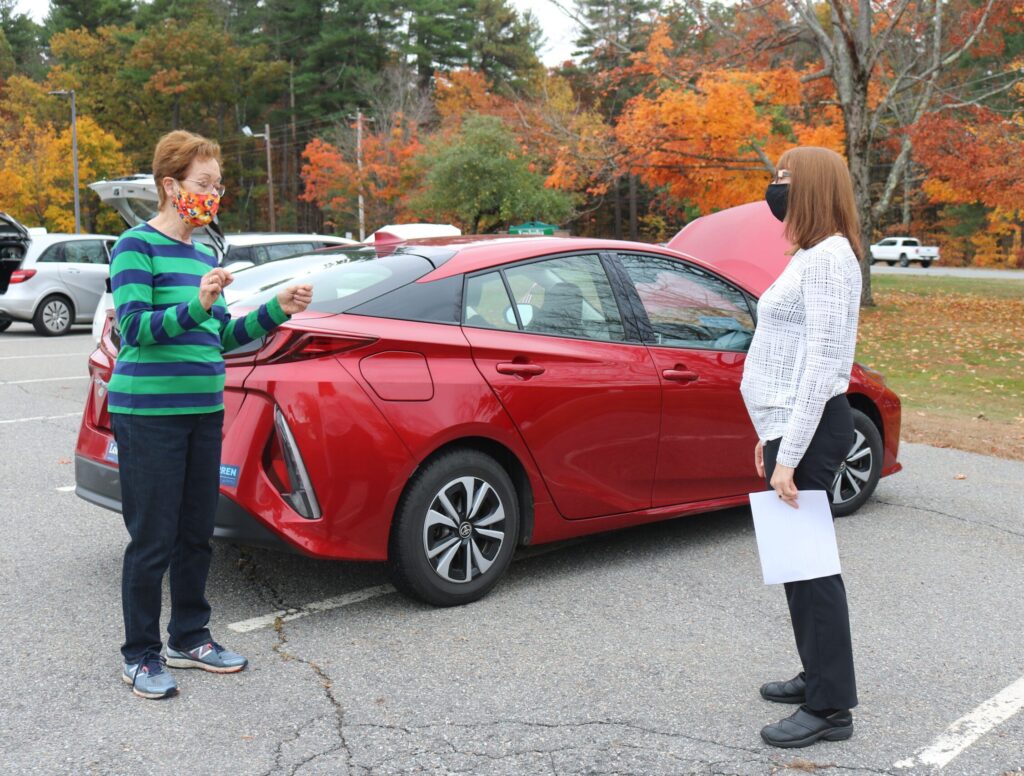 Shepela, a Bolton Local member, also has a history with big picture energy planning. She started the 2017 Solarize Mass Bolton community solar program for which she served as committee chair. She is now supporting a new community solar program, the NVCC-initiated Nashoba Valley Solar Sprint. For Shepela, her car purchase makes economical sense, but is also part of an overall effort to care for the environment. "I am very concerned about climate change and think that renewable energy is the prime answer to what we can do about it."
To review the latest rebates, incentives and guides for EV/hybrid purchases, see:
https://mor-ev.org/
https://www.sierraclub.org/transportation/electric-vehicles
For information about NVCC: http://nvclimate.net/