Published Aug. 12, 2020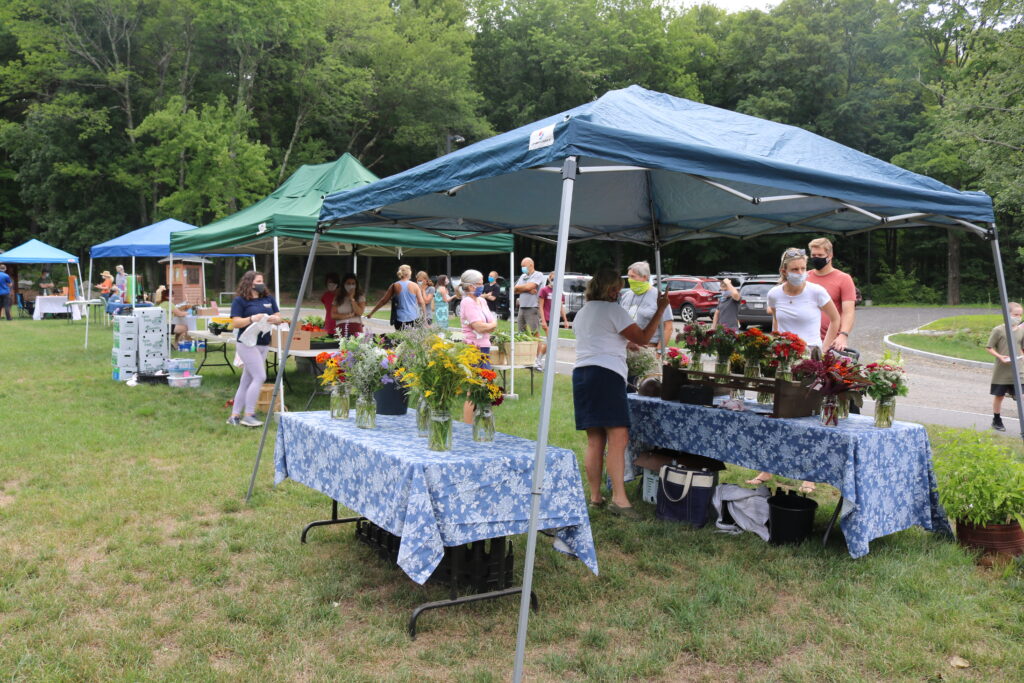 By Maura Rousseau
Craving a cookie? Looking for some fresh flowers to brighten your day? Looking for an excuse to get out of the house? Backyard Bolton offers them all, and more, while utilizing COVID-19 safety precautions.

Backyard Bolton kicked off its first farmers market of the season Aug. 8 on the Bolton Town Common and will host additional markets on Aug. 22 and Sept. 12 from 10 a.m. to 1 p.m., rain or shine. Now into its third year, Saturday's market featured 23 local vendors consisting of small farms, backyard growers, small batch producers, and craftsmen.
Backyard Bolton offers a little bit for everyone, with products including fresh vegetables, breads, sweets, candles and crafts, as well as information from local community groups. The event, which is hosted by Bolton's Economic Development Committee, requires all attendees to wear masks, and booths are placed 6 feet apart. Other COVID-19 related changes from previous years include a marked one-way path, prohibiting food samples, and only allowing vendors to handle produce for purchase.
Bolton Economic Development Committee Chair Erik Neyland explained how the idea for the "laid back" market came about. "The whole point of it is to get together as a community, and that's why we do no cost to come in. Just let us know you're coming. It's just a gathering spot for the community to share what they've grown in their backyard, or what they've made."
"It was a little more difficult with COVID guidelines," Neyland said. "We followed the grocery store guidelines with the one path and spreading people out," and, he added, ultimately, the spirit of the day stayed intact. "People miss people I think, so it's nice even if you can't be close to people," said Neyland.
Carolyn Mitchell of Bolton, owner of Crazy Good Cookies, has been participating in the market since its inception, but has been baking cookies for more than 30 years. For her the draw is, "Friends coming by," she said. "That's the number one love of this. Clearly, I'm not in this for the money. There's a little blonde boy, clearly someone's child, and he comes here with his own money. Every year he buys cookies and he comes back like 10 minutes later and buys more, and that makes me really happy. That's the best. I usually have samples, which is a huge attraction. Obviously, if you can taste it, it makes you more likely to buy it, so people don't just have to buy them on faith."
Owner of Bolton's Golden Run Farm, Lori Colby, grows flowers in her yard to sell at her house and at Backyard Bolton. While much of the day felt the same, she said, there were some major changes due to COVID. "It seems a little light traffic at this point," Colby said. "I actually thought it was going to be super busy, because people are bored and are looking for something to do, but it just opened, so it may pick up a little bit." Soil rotation problems, last week's storm, and the lack of rain have made for a challenging season for the florist. "I'd like to have more inventory, but I squeaked everything out of my garden, but I think it's fun. I think it's great," she said. "It's the same as usual from my perspective. Everything feels the same. All the same people are here. It wasn't any issue setting up."
Marie Romaje of Lancaster brought a variety of vegetables from her farm, located at Flats Mentor Farm which, according to its website, "assists and supports small farmers of diverse ethnic backgrounds." Romaje said, "It's nice to be out to see people and bring good vegetables. We think it is safe to be here."
Not all vendors were there to sell goods. Catherine Pfau of Bolton was there to promote Nashoba Neighbors, a new organization in Bolton, Berlin, and Lancaster to help older adults age at home. One of the objectives of the group is creating a sense of community. Pfau explained, "When people retire, often their meaning for life is lost and there's a gap there, so people really need to be connected to each other and feel engaged and keep learning and doing things and feeling like they have a purpose in life. This is a great way to do it because you can give whatever you have."
Husband and wife Peter Nesbeitt and Ina Chien of Bolton first visited the farmers market last September when they were house hunting, and are now able to walk to the Common from their newly purchased home. "It's like a little taste of normalcy again in the midst of this long abnormal period," Nesbitt said. "I'm really glad that they coordinated this and found a way to make it happen still, and it seems pretty well organized with directions, masks, signs, and all that. This is great."
For more information, visit: https://www.facebook.com/destinationbolton