Following is a list of updates provided by the Town of Bolton and the Bolton Department of Public Works on various projects currently underway in town.
Long Hill Road Reopening Delayed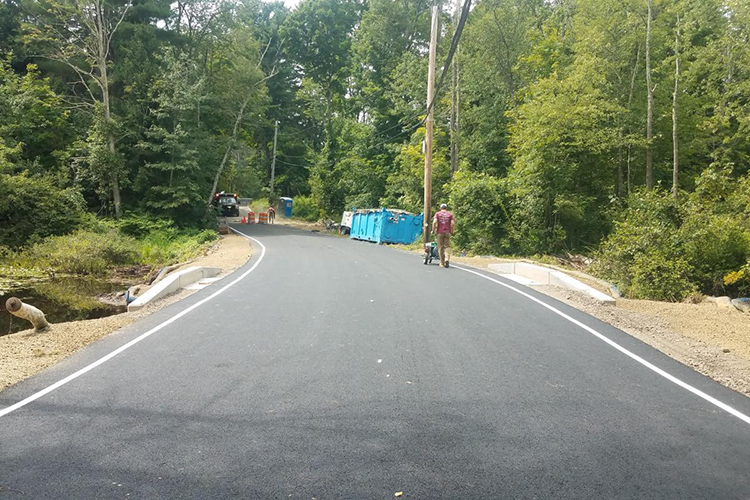 Construction was substantially complete on Thursday Aug. 8. It was hoped that the roadway could be reopened no later than Saturday, Aug. 10 and as early as Friday Aug. 9. However, due to scheduling issues with the guardrail subcontractor, the roadway could not be opened as hoped.
Long Hill Road, at this location, has a significant curve in the traveled surface. Guardrails are essential safety elements to prevent errant drivers from crashing into the pond or brook. Chief Nelson and DPW Director Lynch where both in agreement that without full safety protection the road ought not be reopened.
The general contractor is hoping to install guardrail so that the reopening can be targeted for Friday Aug. 16.
Click here for most recent construction photographs.
Town Hall Portico Project Completion pushed out to Mid-September
Town Hall is registered as a Historical Building. As such, the project not only addresses deterioration in the portico structure, it does so by using the most responsible architecturally and historically correct, materials and methods available to preserve and restore the structure to a condition as when it was new. Great time, effort, and cost is an impact often associated with projects of this sort.
Throughout the demolition and restoration process, existing conditions were exposed that differed significantly from what is considered normal, or expected. When this happened, a careful balance was struck between architectural and historic integrity, cost, and schedule. In every instance, as much of the "original" materials were retained, and when that was not possible, new materials, nearly exactly looking like originals, were used. Several of these situations arose during this project. Each new discovery resulted in delays in completion and cost increases. Though the schedule has been delayed considerably, the project cost remains within budget and the restoration remains authentic.
A great example of this situation is the wooden trim located at the roof line: gutters, moldings, fascia, and soffit. Much of the trim was rotted and some was in decent shape. Careful evaluations were made to preserve what could be preserved and new materials were ordered to match the original. Under historic preservation rules and principals, original and matching new materials are used together to maintain historic integrity. Click here for more photos depicting this process.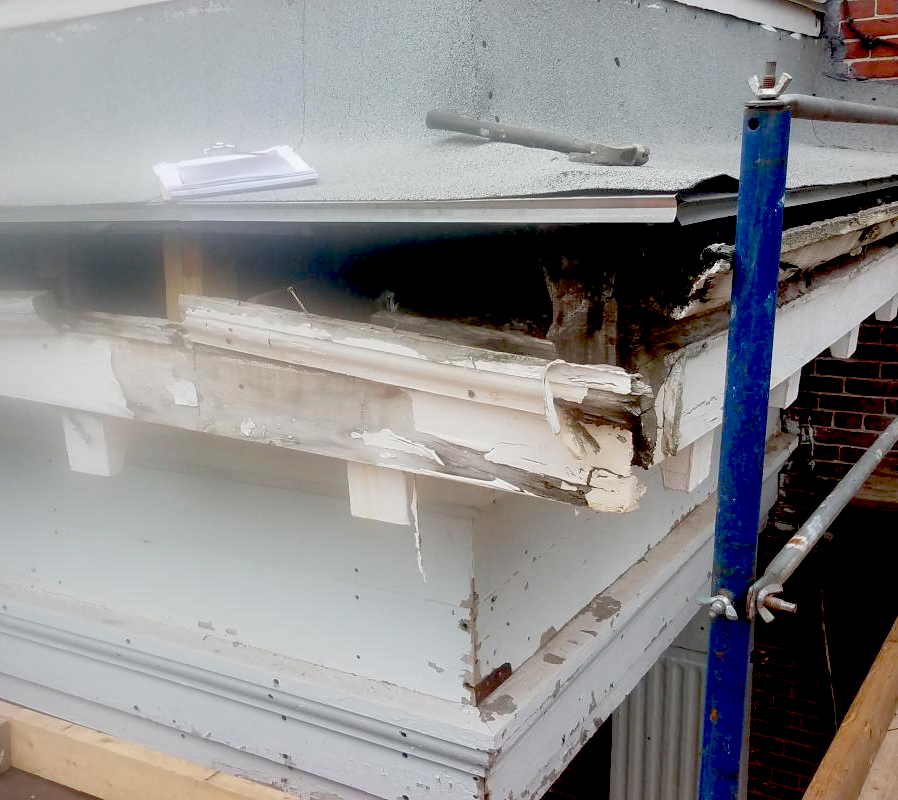 A significant project milestone was achieved on July 29. The historically correct restored columns, capitals, and pilasters were returned to to Town Hall. The pilasters have been installed and the columns are being erected into place.
MassWorks safety improvement project at Main Street and Wattaquadock Hill Road
MassWORKS – Improvements for vehicle/driver, bicyclist and pedestrian safety at the intersection of Main St (Rte 117) and Wattaquadock Hill Rd.
The design for improvements to Main Street and Wattaquadock Hill Road is complete. The project has been advertised for bid. Bids will open on Aug. 19. Construction will begin this fall. The forecast for late completion of construction is fall of 2020. In all likelihood, the project will be substantially complete in early-summer, 2020. The project must be completed by June 30, 2021. Funding for the project in the amount of $975,000 has been provided by the Commonwealth of Massachusetts Executive Office of Housing & Economic Development, under the MassWORKS Infrastructure Grant Program.