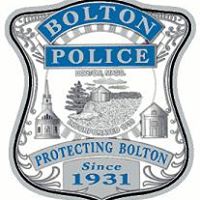 Compiled by Lynda King
Excerpts from the Public Safety Logs. Please note, arrests are made based on probable cause but do not determine guilt or innocence until proven in court.
Police Log: Aug. 5-11
This week police made 109 traffic stops, which resulted in 39 citations, 68 warnings and two summonses. They also fielded six calls about disabled vehicles and responded to five requests for outdoor cooking fires, and one request for an agricultural burn permit.
The Bolton ambulance squad responded to three medical emergencies this week and took two people to the hospital. One person refused treatment or transport.
In other activity:
Monday, Aug. 5:
Nothing of significance to report.
Tuesday, Aug. 6:
10:40 a.m. Someone called to report a past road-rage incident that took place on Harvard Road. The caller said a dump truck had been following too closely behind the caller's car, and the driver was yelling out the window for the caller to go faster. Police are investigating.
10:53 a.m. A patrol officer came across a dishwasher that had been left on the side of Warner Road, and called the Department of Public Works to have it picked up.
11:44 a.m. Bolton police and fire personnel responded to a report of a pickup truck on fire on Interstate 495. Police stood by to direct traffic while Bolton and Berlin firefighters extinguished the blaze.
5:38 p.m. A motorist stopped at the station to report a hit-and-run accident. The person said that while his car was stopped at Main Street preparing for a left turn onto Wattaquadock Hill Road, a green Ford F350 passed on the right, striking the mirror of his Ford F250 truck and causing other damage. Police are investigating.
Wednesday, Aug. 7:
8 a.m. Someone reported a single-car accident on Wilder Road. Police say that the driver suffered a medical episode and passed out, causing his car to go off the road, where it struck a stone wall and a tree. The driver was taken by ambulance to Clinton Hospital; the car was towed.
10:06 a.m. An officer who was in the Country Cupboard parking lot investigating a report of suspicious activity observed a man in a parked car injecting himself with a suspected narcotic substance. After discovering that the man was also in possession of a number of weapons and drug paraphernalia, they arrested 29-year-old Zachary Cassidy of Webster, N.H., on charges of carrying ammunition without a firearms ID card, possessing burglary instruments (a lock-picking set), possessing a Class A drug, possessing a firearm or feeding device, possessing large capacity fireworks, and possessing unlawful self-defense spray. Cassidy was taken into custody, and the items were seized for further investigation. He was booked and later transported to Clinton District Court for arraignment. Police are continuing to investigate this incident.
12 p.m. Police and fire personnel responded to the report of a "tractor" into a house on Moderator Way. Responders found a 725 CAT articulating dump truck that had lost its brakes and collided with the home. The crew from Engine 2 evacuated the house and secured the truck. No one was injured, and the home was able to be reoccupied after the removal of the truck and shoring up the outer wall.
Thursday, Aug. 8:
2:42 a.m. Gardner police called looking for a vehicle involved in a hit-and-run accident in their city, and asked Bolton officers to check a residence for the car. The residents were not present, but state police were already on site and ready to follow up, so the case was turned over to them.
6:37 a.m. A resident on Old Bay Road called to report an unfamiliar car parked on the side of the caller's property. Police report that the vehicle had apparently suffered a tire blowout and had been left there by the owner. The car was towed.
11:33 a.m. Police responded to a 911 call from Florence Sawyer School, and found that some youngsters using the elevator had made the call accidentally.
11:58 a.m. Someone called to ask police to check on a family member in town. No issues were found.
8:36 p.m. A Sugar Road resident reported a tree down across the road. The DPW was called to remove it.
Friday, Aug. 9:
11:08 a.m. A resident on McNulty Road called to report some online harassment. Police are investigating.
12:38 p.m. A caller reported concerns about a black dog at Slater's that was in a van with its windows up and engine running. Police located the owner, who said he had left the engine running to provide air conditioning for the dog while he made a brief stop at the restaurant.
5:22 p.m. A patrol officer reported concerns about a suspicious-looking vehicle on South Bolton Road, but found it was an Amazon delivery person looking for an address.
9:23 p.m. An agency called to ask for a well-being check on a Berlin Road resident. No issues were found.
Saturday, Aug. 10:
9:10 a.m. A Danforth Lane resident called to complain about noise from construction at a nearby subdivision. Officers went to the area and notified the workers that they were not allowed to work on Saturday. Police say a bylaw violation will be issued to the construction company.
11:32 a.m. Someone reported a two-car accident on Wilder Road, at Main Street. Police say both cars were headed toward Main Street when one slowed to stop and the one behind did not, rear-ending the first car. No one was injured; one car was towed.
2:42 p.m. A resident called to report a family member missing. The person was later located safely.
5:52 p.m. A motorist reported there was a small child standing on the front seat of a white pickup truck at the Main Street/Still River Road intersection heading toward Lancaster. Police alerted Lancaster officers to watch for it.
9:45 p.m. A resident called to report receiving harassing telephone calls. Police are investigating.
11:56 p.m. A patrol officer stopped to check on an occupied vehicle parked at Bolton Orchards. The occupants said they were about to move on.
Sunday, Aug. 11:
1:22 p.m. Someone called to report that two motorcycles were speeding on West Berlin Road. Police did not make contact with the bikes.
6:46 p.m. State police called to request that the Animal Control officer report to their location on I-495, to take custody of a dog belonging to someone they had just arrested.
8:06 p.m. A family member of residents away on vacation called to report the possible theft of a John Deere tractor from the property of those residents. Upon investigation, police found that the tractor had been picked up for maintenance.