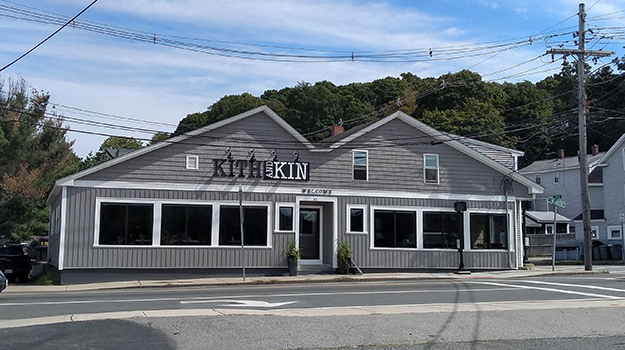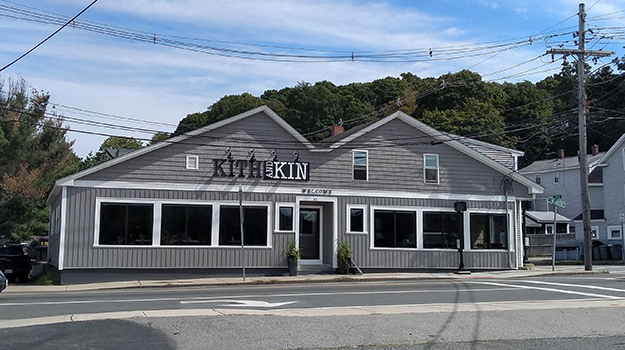 By Ann Needle
Has this ever happened to you?
It's Sunday, and your spouse/other half is yelling at the television news shows. There's a lot of that going around nowadays, so it's up to you to break the cycle and drag your loved one to brunch. And, thanks to the new Kith and Kin in Hudson center, brunch is close by not only on Sundays, but ANY day of the week.
Although trendy, the few sit-down service brunch choices close by are typically Sundays only. What Kith and Kin offers is a 7-days-a-week brunch, with dinner at the other end of the day. It is also near all of Hudson's many shops and businesses, so an after-meal stroll to, say, grab an ice cream at the nearby Microcreamery is reasonable.
Open only two months, Kith and Kin's brunch-and-dinner approach (and full bar) is bringing in customers, with a bright and appealing butcher-block décor and open kitchen.
On a recent Sunday morning, Jeff and I were seated in a very full dining room peppered with the Bloody Marys and Mimosas of the meal. The varied menu ranges from Eggs Benedicts and omelettes through corned beef sandwiches and what appeared to be a sizable Ahi Tuna Salad at another table.
Something to Quack About
What popped out during a first look at the brunch and dinner menus was duck, which the chef seems to like, with a shredded duck omelet at brunch and a duck leg at dinner.
Jeff ordered up the Pulled Duck Omelette and declared it exquisite. Being the first visit, I went with the traditional Eggs Benedict, served with a small salad and breakfast potatoes. The Benedict was wonderful and the salad had a touch of what tasted like a lovely, lighter Italian dressing. This is important; if I wanted to drown in dressing, I would get a straw and a bottle.
Both of us loved those potatoes, too. Round and soft and plump on the inside with a crispy, tasty coating on the outside. Our server explained how these were made, and of course it went over my head. If your dish does not come with these, order them separately. And don't miss the two shelves of hot sauces on the wall if you want to spice things up.
The only rap we had was the $1 extra charge on Jeff's Bloody Mary for Tito's "premium" vodka. He was never asked what vodka he preferred. And one could argue Tito's is not in the premium league.
The location, on the edge of the Hudson center rotary, could scare some away at first glance, with no parking in sight. Not to worry – take a left onto School Street, if approaching from the rotary side, to the parking lot in the back, containing 10 regular parking spaces and a handicap space. If that is full, there's ample on-street parking on School Street.
A note about dinner — Many people ask how dinner is at Kith and Kin but complain the prices ($27 for the Porterhouse steak meal) are keeping them away. To be fair, they are in the same range as "Less Than Greater Than" across the rotary, which is rightfully thriving. The dinner reviews for Kith and Kin are quite enthusiastic, so you should not be wasting your time or money. Of course, brunch is less expensive.
While the very popular Rail Trail Flatbread Co. is around the corner, offering better prices and a more casual menu, I have arrived there at 4:30 p.m. on a Saturday to avoid waiting, and there was still a wait. The neighborhood desperately needs other choices, and Kith and Kin could be filling the bill in some respects.
Address: 40 Washington St., Hudson
Phone: 978-562-3800
Web: kithandkinhudson.com
Hours: 7am-10pm Mon-Fri
Kids' menu: Yes