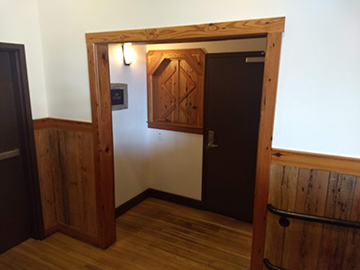 By Ann Needle
If you were a speakeasy, where would you hide? The answer is, at least in the town of Hudson, downstairs from an ice cream shop.
This so-called "speakeasy" is actually a delectable dinner stop. Called "Less Than Greater Than," the proprietors often use "<>" in discussing their clandestine, sign-free operation.
The first floor of the building leads you to the New City Microcreamery, an ice cream parlor and bakery to drool for, under the same ownership. (And across the street in Hudson Center is yet another of the owners' venues – the very popular Rail Trail Flatbread Co.)
Less Than Greater Than (<>) diners enter by walking through the Microcreamery to the back right-hand wall. There you find a closed Dutch window and a lit-up light switch. Switch the switch and a maître d' will (eventually) pop out, just like the guy who yelled at Dorothy when she visited the Wizard of Oz. But these greeters have all been way more pleasant to hubby Jeff and I during our visits.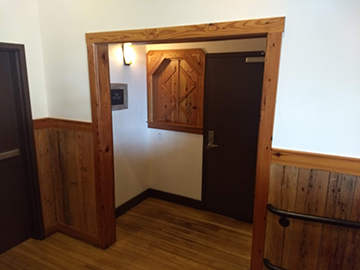 In our latest trip, the smiling maître d' asked, "Are you here for the cobbler?" Being the oblivious country bumpkins we are, we asked what this meant. The young man explained that the exit door from <>, visible on the street, has a COBBLER/FINE SHOES sign. This is the speakeasy's disguise, you see.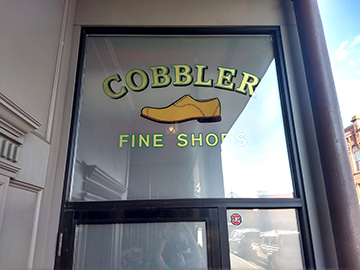 Patrons are then lead into a small, mostly windowless, dark-wood paneled restaurant featuring a bar and artwork that evoke the 1920s-era when speakeasies were created as a secret way to get alcohol during Prohibition. This is not at all a cheerless place, though, and a very welcome change from the light-wood paneled and glass style of many newer restaurants nowadays. (Does the same firm design them all?) And, it is usually very busy for a reason.
This speakeasy started out as primarily a cocktail venue, of course, with some food served. The cocktail menu still features 1920s favorites such as Old Fashioneds. But, it's fair to say that the restaurant now gives equal weight to food and drink.
In short, we NEVER had a bad meal here. The menu changes seasonally, offering very fresh, mostly contemporary food, or the traditional with a creative twist.
My appetizer at least week's dinner was Strawberries and Burrata, with divinely fresh strawberries offering a marinade that paired with the burrata's cream-cheese consistency. Jeff opted for the Summer Vegetables, and whatever marinade these came in made me desperate to learn how to cook broccoli (or, cook) the same way at home. But that's why you pay to eat out.
Jeff raved about his main dish of Duck Cassoulet. And a word here about my Impossible Burger, a vegetarian burger fashioned to taste just like a "real" beef burger. They seem to be popping up everywhere, like mosquitos. It tastes like beef, but real beef is better. And, I've had some local veggie burgers that are much better than both. Still, <> dressed it up with a very fresh roll and a wonderful cheese, making it work quite well.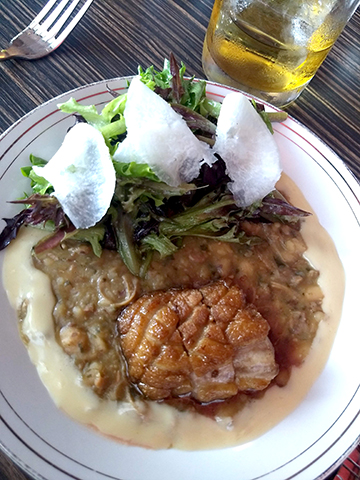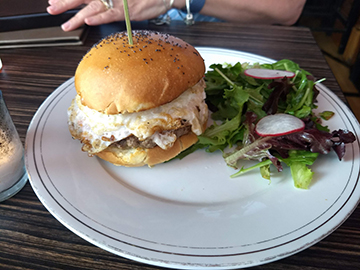 If being in an interior space during the summer isn't your thing, <> does host Tiki Tuesdays at the moment, tempting the locals in to savor the AC.
The restaurant is limited to the over-21 crowd, but the upstairs establishment is much more appealing to children anyway. And you need dessert.
Speaking of easy dessert…
New City has been around for a few years, but we took our time getting there. The ice cream is superb — creamy, not cloyingly sweet, and plenty of the promised ingredients. (For instance, some places don't mix their ice creams well, so some dishes of Oreo Cookie vanilla may drive you to a package of Oreos and wreck your bikini season.)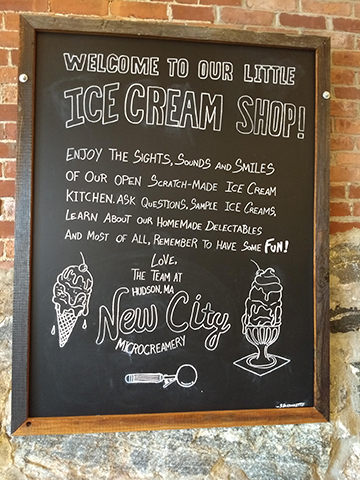 The latest visit's treat was Malted Milkball, with lots of those fluffy, chocolate milkballs in that creamy vanilla. Jeff savored his Vanilla Bourbon, which he swore had real booze. He maintains this isn't always the case for other ice cream shop's liquor-flavored treats.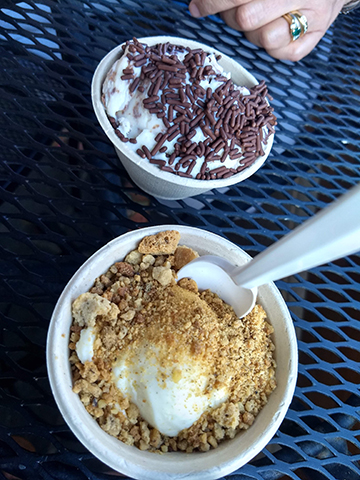 What really gets me is the scent of the place, which also is a bakery offering delectable-looking cupcakes, ice cream birthday cakes, and so on. With summer finally in swing you may want to stop here one evening after a light dinner and sample a baked treat as well, given this may not work after a full <> meal. There also is seating on the outdoor deck.
Hooking an ice cream parlor to a speakeasy was a genius idea.
Less Than Greater Than/New City Microcreamery
28 Main St., Hudson (at the the edge of the rotary going west on Rt. 62)
Phone — Less Than Greater Than: This is a speakeasy, we can't tell you…
New City: (978) 333-7144
Web — Less Than/Greater Than: lessthangreaterthan.com
New City: newcitymicrocreamery.com