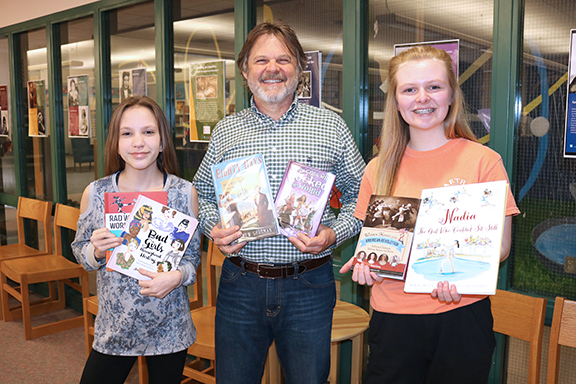 By Kristin DeJohn 
In April, the Independent wrote about two eighth grade Bolton Girl Scouts who were working to boost awareness about the roles of women throughout history at their school library and online. The effort was part of a Girl Scout Silver Award project that involved fundraising for books and boosting awareness about historic female role models via social media. [For the full original article, see below.]
We recently caught up with the soon-to-be Freshmen, Lizzy Carpenter and Maddie Powers, before they head off to Nashoba Regional High School to see how their fundraiser and project concluded.
"Our Silver Award project was able to donate a total of 51 books to the Florence Sawyer School library," noted Maddie. "With the money we collected from the Declutter campaign, we are in the process of purchasing additional books to add to the FSS library's collection of women's history title."
The Declutter campaign collected household goods from area residents this past spring and through the 'Savers' fundraising program turned the goods into cash to buy books.
"Herstory Project will continue because the many books we donated will remain in circulation at Sawyer, and every year the laminated posters can be hung up in the hallways during Women's History Month in March," said Lizzy. "Outside of school, the Twitter account will keep posting about teaching women's history in schools, and important women's history events. We bought or received all the books from our wish list, so our project isn't accepting donations anymore, but anyone who wants to donate books to the library can contact Mr. Caligiuri."
Bolton Girl Scouts promote women's history (original published April 11, 2018)
By Kristin DeJohn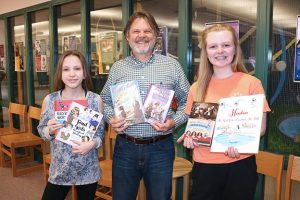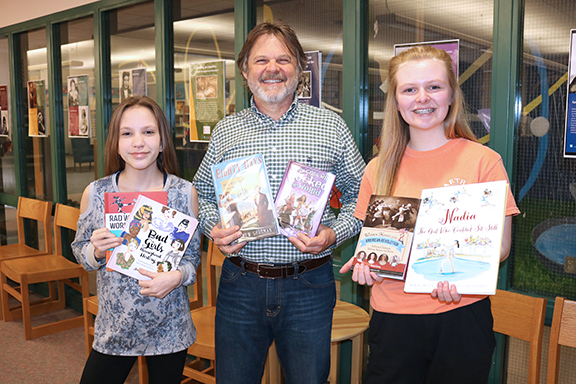 Two Bolton Girl Scouts, working on their Silver Award, are undertaking a project that aims to highlight the significant accomplishments of women throughout history.
Silver Awards are the highest award given to Girl Scout Cadettes and require a scout to find a way to improve her community. When eighth-grade Florence Sawyer School students Maddie Powers and Lizzy Carpenter began considering how they could make a difference, they realized that men are disproportionately covered in history books. In response, they set out to help balance it out a bit by boosting the number of books about women at their school's library and by sending positive messages out about women via social media.
"Our Silver Award project was created to bring awareness and educate kids in our town and school about women in history," said Maddie. "We decided to do this because we realized we learned about a lot of men in school, but not much about women," added Lizzy.
As part of the project, the duo began their own Twitter campaign (@Tell_Her_Story), which they've used to share women's stories and promote their effort to elicit book donations. They began their effort in March to coincide with Women's History Month.
"We've always had displays for Women's History Month here at the library, but this project has truly taken it to a whole other level," said FSS Librarian Michael Caligiuri. "In the past, we would merely display books by and about important women in history during the month of March, but the posters and quality of books are causing a buzz around campus."
Creating a Women's Book Wish List
"We have received 48 books for our school library, and the number keeps rising!" exclaimed Maddie, as the two reviewed the success of their campaign.
"People can order history books for the library through our Amazon wish list," added Lizzy. "A nameplate is put in the book thanking the donor."
"Our goal at the FSS library is to raise awareness about women's history," continued Lizzy. "We want kids in our school, especially girls, to have accessibility to books that can inspire them. Throughout this process we were able to find lots of great books about inspiring women."
"When Maddie and Lizzy approached me with their project idea, I was on board right away," said Caligiuri. "Our library welcomes any chance we have to develop the collection. Right now, books about unsung heroes are red hot and there are so many important women in history that have been overlooked for so long that publishers and authors are now filling that niche."
Caligiuri says the largest donation so far has come from the Bolton Cultural Council, but that donations have been trickling in from all over. "We even received a book donation from the U.K. and a signed copy of a book by Cokie Roberts," he noted.
"Our goal at the FSS Library is to help give students and teachers alike a wider range of knowledge about women who have been very prevalent and not as prevalent in history," said Maddie. "We hope to inspire them by giving them the knowledge of women who came before them and what they did to change the world."
Declutter and Tweet for Change
In addition to creating the online book wish list, the duo has a "declutter" fundraiser underway that accepts clothing, toys, books and smaller household goods (not furniture) through April 17. [The fundraiser is now closed.]
On the scouts' Twitter page, there are a variety of women's stories. "We are using Twitter to connect with other pages that are sharing a similar message as us, and also, to inform members of the community about our project journey," said Maddie. "We hope to keep this project going all year round, and for everyone in the community to learn more about women in history."