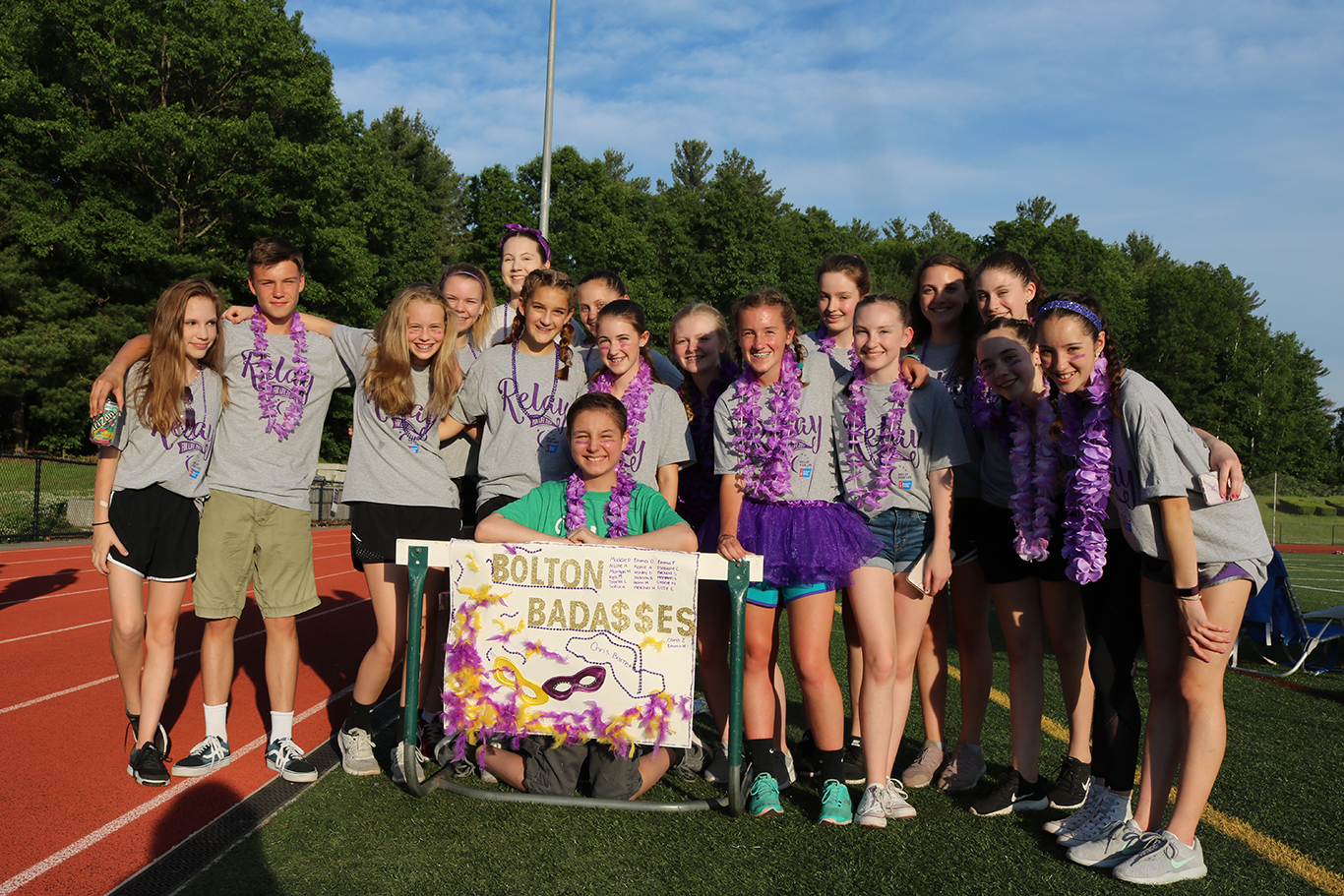 By Kristin DeJohn
It was a record-breaking year for "Relay for Life of Nashoba" participants who converged on the Nashoba Regional High School track in Bolton for the annual American Cancer Society fundraising event. The 12-hour relay began with an opening ceremony Saturday, June 2, at 6 p.m., which included the National Anthem sung by the high school chorus and remarks by State Representative Kate Hogan (D-Stow).
"As you walk tonight, I know you'll be thinking of people that you know who are dealing with issues around cancer, and it is so important to raise funds so we have the ability to continue to do the research and find the cures," said Hogan.
The Relay for Life is meant to symbolize a cancer patient's journey, with the light and dark representing the physical and emotional effects that patients experience while undergoing treatment.
"Today we honor those survivors who are here in the purple T-shirts, remember those who we've we lost to cancer, and do everything we can as a community to fight back and bring us closer to find cures for the disease," said Event Leadership Team Co-chair Liz Miller, a Florence Sawyer School teacher who described her treatment for skin cancer as minor compared to what many patients go through. "I stand with them in support," she said. "I share my common skin cancer story simply to let everyone know that early detection can make a crucial difference in the outcome of this disease. Screenings, when possible or recommended, whether skin, mammogram or colonoscopy, should be a part of everyone's well-health routine."
In addition to co-chairing the local Event Leadership Team with fellow FSS teacher Linda Gothie, Miller also helps lead the seventh-grade FSS team. "This year, we had 62 students participating, and our current total raised is $17,300 – a record for the Sawyer Stars!" she exclaimed, adding that this is the eighth year for the team. "We started out very small, raising about $6,000 that first year. This year, the total combined donations raised by the past and present Sawyer Stars passed $100,000!"
Survivors Leading the Fight
Each year, cancer survivors are invited to take the first lap. This year, Bolton resident Fernie Barrett, a breast cancer survivor who is in remission, joined her son, eighth-grade FSS student Chris Barrett, who was diagnosed with leukemia just a week after participating in the 2017 Relay for Life.
"Last year I remember Christopher telling me he was participating in Relay for Life," recalled Barrett. "He was very excited, because he said he was doing it for me. To honor my fight with cancer. It was so ironic that only a week later he would be diagnosed as well. I was in Taiwan at the time and remember receiving that dreaded phone call in the middle of the night and feeling that my world was falling apart. I was on the next flight home, and when I arrived, I was so impressed with the strength he possessed. He had such a positive attitude. He told me that having seen me beat cancer, he would beat it too; he was not afraid. To hear that from a 13-year-old child was both heartbreaking and inspiring."
Barrett calls this past year "a roller coaster ride." She said, "The first conversations with all the doctors and specialists were so overwhelming, so daunting. The one thing we did hear though, and understood, was that although we had a long, grueling treatment ahead, the prognosis was good."
The toughest time for the family came in January, when Chris suffered a hemorrhagic brain stroke. "I have to say that going through that time was the darkest days of our lives," Barrett said. "We are extremely fortunate that he has made a full recovery."
While Chris faces another year of treatment, he has forged ahead and became the highest fundraising participant in the history of the 'Relay of Life Nashoba' event, raising $8,000. He has also been team captain for the 'Bolton Bada$$es, which has raised more than $14,600.
"It was a team effort," said Chris. "My teammates worked hard, and their hard work almost made us the top team in donations, and I am grateful. I am also grateful to have received a lot of support and many generous donations from our community, my family and my friends."
The continued support has made Chris reflective about inequality in treatment options. "I feel that I have been more fortunate with my treatment than others, especially those who financially have a difficult time with receiving treatment; those who don't have insurance," he said. "There are also people who can't get rides to receive their treatment, or aren't even in an area where they can get the needed treatment. These people need to be supported. No one should have to worry about how they get their treatment; the treatment itself comes with enough mental and physical pain as it is. I can't imagine how much harder it would be if those weren't the only things I had to worry about."
So far, the entire Relay for Life of Nashoba event has raised nearly $69,000 with the number expected to rise. Donations for the 2018 event can be made through August; Find the "Relay for Life of Nashoba" page at: www.relayforlife.org