By Lynda King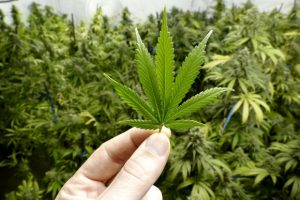 With the legalization of both medical and recreational marijuana in Massachusetts, cities and towns across the state must now decide on how the state mandate will be implemented through local bylaws and regulations. Bolton voters will have an opportunity to deliberate on two sets of proposed rules relating to marijuana at the May 7 Annual Town Meeting. The first, a bylaw proposed by the Planning Board (Article 13 on the warrant), lays out in detail recommended regulations for any potential marijuana establishment in town. The second, a citizens petition (Article 29 on the warrant), proposes a set of rules governing only small-scale cultivation of recreational marijuana. Besides the scope of marijuana businesses addressed by the two articles, they also differ in some other important ways.
The Differences
Article 13 would prohibit any marijuana-related activities in town unless authorized by special permit granted by the Planning Board, after a careful review of a proposed business and its compliance with the other regulations set out in Article 13 and with regulations established by the state's Cannabis Control Commission. By contrast, Article 29 proposes that small-scale cultivation of recreational marijuana be allowed "by right," which would eliminate the need for any review by the Planning Board. The article justifies bypassing special permit procedures based on the perceived applicability of Bolton's Right-to-Farm Bylaw, which "encourages the pursuit of agriculture and promotes agricultural-based economic opportunities." However, Article 13 specifically states that "marijuana establishments are not a form of agriculture, horticulture, or floriculture for purposes of the Zoning Bylaw."
Further, Article 13 specifies that marijuana-related businesses are permitted only in the business, limited business and industrial districts and are prohibited in residential and limited recreation business districts. However, Article 29 would allow small-scale cultivation in residential districts.
Finally, Article 13 would require that a marijuana establishment be at least 500 feet from a residential dwelling, whereas Article 29 addresses only the setback distance from property lines, which is 50 feet.
The Issues
A likely bone of contention at ATM will be the agricultural question: is marijuana an agricultural crop or not? Bolton's Agricultural Commission believes it is. In a phone interview, Chairman Teresa Sauer told the Independent, "The Ag Commission has unanimously supported this from the beginning." She said that Commission members "looked at it in a practical way," as an opportunity for farmers to increase their income and make their farms more viable. However, the Planning Board's article says that marijuana is not considered an agricultural crop.
Bolton resident Kate Buyuk, who originated the citizens petition, says she has heard two primary issues. In an email to the Independent, she said, "The first is from people who are not yet informed about the petition and what a small-scale cultivation operation would look like. This is only a proposal for 1,000 square feet of canopy, which is a very, very small commercial operation, and it is highly regulated by the state." The second set of concerns, she said, is "from people who are vehemently opposed to marijuana or marijuana operations of any sort."
Maria Shoemaker, one of four Bolton residents who voiced opposition to Article 29 in a recent letter to the editor to the Independent, said in an interview that, although she does object to marijuana use, the focus of her opposition to the article "relates only to growing marijuana in a residential zone." Co-authors of the letter agreed.
Christine Yelle raised concerns about the proposed size of a small-scale growing operation. She said, "The 1,000 square-foot canopy refers to plants in flower only. My estimate is that facilities will need to be at least 25 to 50 percent larger than the canopy area to accommodate non-flowering seedlings being grown to replace harvested plants, plus processing and packaging areas."
Buyuk, in a presentation at the library on April 7, acknowledged that her proposed bylaw does not address space for ancillary activities, and said that the 1,000 square feet of "canopy space" refers only to the area containing flowering plants.
Yelle also expressed concern about noise from the HVAC systems required in growing facilities, especially given the 50-foot setback proposed by Article 29, and was also concerned about "light pollution" from the bright lighting needed to grow marijuana.
Shoemaker pointed out that "the transportation activity alone" could become a big nuisance to Bolton's rural neighborhoods—with trucks transporting the product to clients and trucking growing supplies and equipment in and out of the property. However, when she raised this issue at Buyuk's April 7 presentation, Buyuk asserted that the scale of an operation with a 1,000 square-foot canopy would not be big enough to warrant that level of transportation activity. Buyuk said, "With this size operation, there will not be huge trucks coming and going at all hours of the day and night. That's not how this is designed to work."
Buyuk, who already grows a small amount of medical marijuana for a family member, explained to the audience that she is hoping to have her own small-scale retail growing enterprise if Article 29 passes. She doesn't use marijuana herself, she said, and "doesn't even like it."
Asked to explain what a 1,000 square-foot operation would look like, she explained that materials she would need for her operation, such as soil and fertilizer, could be transported in her car. She would order seeds by mail, she said, and would make clones herself. She said that each harvest would likely yield a maximum of 40 pounds of marijuana, not a lot to be transported in the required secure vehicle. She said she would need pickups only four to six times a year.
An attendee at the April 7 forum expressed concern about "industrial-style" pre-fab metal buildings being erected in residential areas to accommodate a growing operation, and asked why building style wasn't addressed in Buyuk's Article. Buyuk said that those types of structures are not conducive to growing plants in a controlled environment, and emphasized that growers would also have to adhere to Bolton's existing building codes, which would be within the purview of the town's building inspector. Another attendee offered that there are neighborhoods in town that are also protected by building covenants.
To allay the fears of people concerned about the proliferation of small-scale operations in town, Buyuk explained that getting involved in it is a very costly and time-consuming endeavor, requiring state approval of comprehensive plans provided by an applicant. The state's 88 pages of regulations are very daunting, she said, and licenses must be renewed annually. In addition, all workers at any growing facility would need to go through a background check.
Shoemaker said that although Buyuk's vision for a small-scale operation may seem unobtrusive, there is nothing to say that might not change over time.
Yelle agreed. "My fear is, this Article would be a slippery slope," she said. "What's to say that two years down the road a grower says it's not economically viable and petitions for an expansion?"
The Attraction
In a town where some would argue that property taxes are breaking the backs of its residents, people often point to the potential tax advantage of allowing marijuana businesses in Bolton. The Planning Board has stated that the state's Regulation and Taxation of Marijuana Act would allow the town to collect up to 3 percent of the gross sales from marijuana-related businesses, and would also provide that the town could negotiate a Community Impact Fee for an additional 3 percent of the gross sales.
"People not familiar with all the issues are attracted to the idea of the money," Shoemaker said.
She explained that information she received from contacts at the Department of Justice in both Colorado and Oregon shows a decrease in property values in places where pot is grown. A decrease in property values would translate to an overall decrease in tax revenue, which would have a negative impact on Bolton's schools, she said.
Buyuk, in her April 7 presentation at the library, explained that her proposed bylaw would not only offer a way for farms to be more profitable, but would also provide a business opportunity for "mom-and-pop" enterprises and job opportunities for people to help with activities such as harvesting, drying and packaging.
Sauer said that, with the Cannabis Commission's release of its final regulations in March, "Everybody's in the same place. This [the Annual Town Meeting] is where everyone is trying to figure it out."
She said that for people who are going to do it, this is the time to get involved, "while the market is establishing itself. We don't know exactly what the market is going to do," she said. She added that she has heard a retail shop is going in on Route 62 in Hudson, and that Clinton has plans for one as well, so the market appears to be moving ahead.
The discussion of these warrant articles will be taken up at Bolton's Annual Town Meeting which will be held Monday, May 7 at 7:00 p.m. at Nashoba High School's auditorium. If not all of the articles are addressed that night, a second night of Town Meeting will take place on Tuesday, May 8 at 7 p.m.