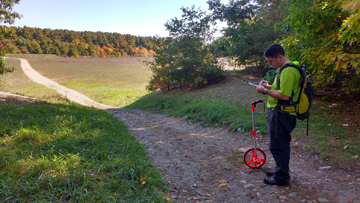 Contributed by Greg Matte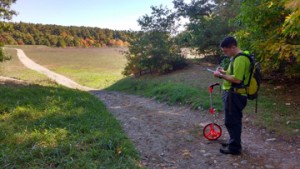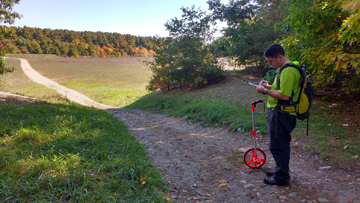 Do you enjoy Bolton's trail system? Have you ever wondered how many miles of trails there are in our great town?  Make a guess and you may win a prize!
My wife and I moved to Bolton for its community, schools, open spaces, orchards, and for its easy access to highways that lead to beaches, mountains, and cities.  Bolton is a great place live and to become involved.
Have you seen a guy walking through the woods this year with a green backpack and an orange surveyor's wheel? That was me. I have always been interested in how communities are connected in ways other than by their roadways and I have been helping maintain Bolton's trail network for many years. I joined the reinvigorated Bolton Trails Committee (BTC) last year in hopes of becoming even more involved. The BTC works closely with the Bolton Conservation Commission and Bolton Conservation Trust to help maintain our amazing trail system.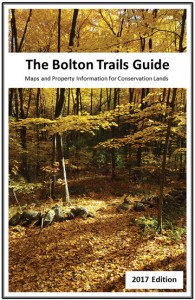 I proposed to the BTC that we figure out exactly how many miles of trails exist in Bolton. Sure enough, the rest of the committee wanted to know as well. I volunteered to take the, ahem, (surveyor's) wheel.
Measuring the distance of all trails in town was only practical and possible because the BTC has recently published an updated trail guide. The Bolton Trails Guide provides users with the most accurate map data available. This significant achievement was initiated and driven by Jeff Larence who serves as a Bolton Trails Committee volunteer, Conservation Commissioner, and Bolton Conservation Trust Director.  Bolton Trails Committee volunteers captured multiple GPS tracks for each of the trails in town. Jeff layered this data with Bolton's Geographic Information System (GIS) maps and property-specific information to develop a complex, uniquely accurate map-building process.
The BTC is proud of its impressive new guide with its accurate maps.  Individual trail maps are available as QR downloads at trailheads and at www.boltonconservationtrust.org. A hardcopy of the field-ready guide, a must-have for anyone who enjoys Bolton's extensive trail network, is complimentary with Trust membership.
Measuring the trail mileage in town first required adding unique identifiers for all trail junctions on the new maps.  Then each segment between junctions was measured with the surveyor's wheel at least twice.  Over 300 segments were measured, documented, and totaled to achieve, for the very first time, trail mileage data for all properties in the trail guide.
So just how many miles are in Bolton's network?  What's your best guess?  Prizes for the three closest guesses will be gift cards to local businesses.  First prize is a $100 gift card for the Nashoba Valley Winery.  Second prize is a $50 gift card for Slater's.  Third prize is a $25 gift card for the Bolton Bean.  These great prizes are sponsored by the Bolton Conservation Trust.
Enter the contest by e-mailing your guess to [email protected].  Scan the QR code or visit http://www.boltonconservationtrust.org for contest specifics.  Take a hike, take a guess, and you may win a prize! The biggest prize of all is Bolton's natural beauty!