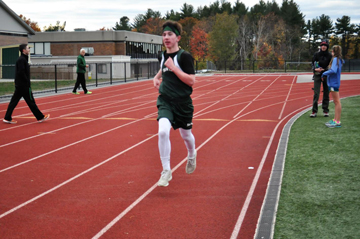 By Michael James LeClair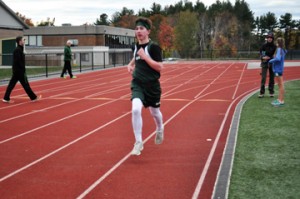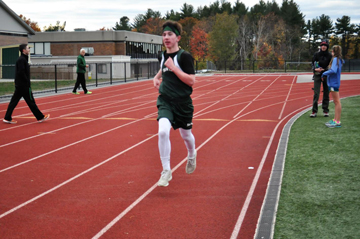 Breathe easy, folks. The Nashoba Regional cross country programs is going to be in good shape for years to come.
The future of the programs was on full display Wednesday afternoon. Runners from Hale Middle School in Stow, Florence Sawyer Middle School in Bolton and Luther Burbank Middle School in Lancaster made the trip to Nashoba Regional High School for the annual boys' and girls' tri meet.
A total of 94 runners took to Nashoba's 1.94 mile course that began on the school's softball field and finished on the track surrounding the field turf football field. The day featured two races – a girls' competition followed by the boys.
At the conclusion of the two races, once scores were tabulated, one school was awarded a championship trophy that is proudly displayed at the victorious school.
Runners from all three schools ran hard and turned in some tremendous times but in the end it was Hale Middle School taking home the championship trophy for the ninth consecutive year.
"We've only had a trophy for the past couple years but this is my ninth season here and we've won it every year I've been here," said Hale coach Ben Langelo at the end of the afternoon's festivities. "The girls gave me a bit of a heart attack, it was a tough race for them, but we have really good depth and our younger runners did a good job filling the gaps."
In the girls' race, Hale placed four runners in the top 10 and seven in the top 20 to earn the victory with a team score of 33. Luther Burbank had two runners in the top 10 and six runners in the top 15 to finish second with 44 points while Florence Sawyer finished with four runners in the top 10 and five in the top 20 to conclude the race with 46 points.
"We had a solid group of three, four, five girls for us this season," said Sawyer head coach Gary Kozloski. "Once the girls settle into their race and adjust to the course they just take off."
Leading the way in the girls' race was Hale eighth-grader Ali Gillooly, who finished with a time of 11:57.
"I felt pretty good out there, it wasn't my best race but I felt like I had a strong finish," said Gillooly following her performance. "I thought the course was pretty long, we got a chance to walk it before and there were a lot of down hills so I thought it was pretty good."
Gillooly was followed by teammate and fellow eighth-grader Erin Oberlies with a time of 12:59, good enough for second place.
Sawyer's Emma Toland placed fourth with a time of 13:41 and Hale seventh-grader Jenna Gagnon finished sixth, clocking in at 13:49.
"Emma is a seventh grader and she's been our strongest runner," said Kozloski. "We had some strong finishes on the girls' side. I was happy with the way the girls ran."
Seventh, eighth and ninth place belonged to Sawyer as Payton Richard, Jill Paine and Charlotte-Jane Winiarski all crossed the finish line respectively. Richard finished with a time of 14:11, Paine's time of 14:20 and Winiarski's time of 14:36 all earned points for Sawyer.
"We've been running two and two and a half miles the past couple weeks in preparation for this race today," said Kozloski. "The course is OK, it has some wooded areas and that helps."
Other locals to finish in the top 20 include Hale sixth-grader Zenna McIsaac (14:45), Hale sixth-grader Emma Pacileo (14:56) Hale seventh-grader Ally Kerr (15:05), Hale eighth-grader Audrey Arsenault (15:10), along with Sawyer's Holly Senior (15:12) Brooke Lindsay (15:16) and Schuyler Evindar (15:20).
In the boys race, it was Hale bringing home first place with a combined team score of 24. Florence Sawyer came in second place with a score of 37 and Luther Burbank was third with 81 points.
Taking home first place for the boys was Sawyer's Will Cote with a time of 10:59. Cote was one of three teammates to place in the top 11 as Jake Oblak finished third with a time of 11:47 and Fletcher Hohn was 11th with a time of 13:10.
"It was definitely cold out there and I feel like it held me back a little bit," said Cote after his win. "It was a longer course than what we run during the season and these are tough conditions to run in. I don't like running in the cold weather. I'm glad I was able to take the win."
As for Hale, it may not have had the top runner however the team placed seven runners in the top to keep its overall team score low.
"The course was little longer than what we're used to at home, we run 3K so it's a little shorter than this," said Langelo. "The kids adjusted and ran a good race."
Hale seventh-grader Ailin Oberlies paced his team with a second place finish. Oberlies crossed the finish line at 11:29.
Following Oberlies it was a train of blue jerseys as Hale runners placed fourth through tenth.
Jack Boyle (12:06), Dylan Whalen (12:21), Graham Josephson (12:27), Colin Small (12:30), Mark Rodstrom (12:39), Jack Ross (12:44) and Freddy Collins (13:01) rounded out the top 10.