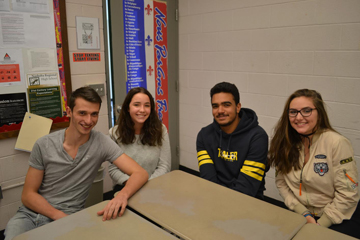 By Ann Needle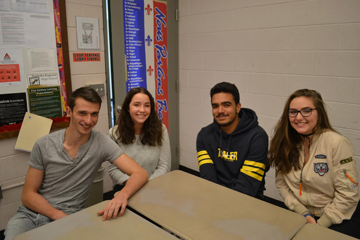 The presidential election is near, making this an especially interesting time for foreigners visiting the U.S. In fact, the students from a French secondary school visiting Nashoba Regional High School had a brief observation of the fiery state of political affairs. But they also offered a fresh perspective on the life residents enjoy around Nashoba and beyond.
Thanks to NRHS French Teacher Christine Winter, for the past 2 weeks, NRHS has hosted 19 students and two teachers from the school La Providence in Dieppe, Normandy. According to Winter, the teens, who are staying with Nashoba host students and their families, have been taking trips around Boston to well-known landmarks such as the Freedom Trail and the JFK Museum. Schools days have been spent shadowing NRHS students, sharing their cultural expertise in French classes, and attending school events, she said.
La Providence Students Antoine Greffine, Claire Leportier, Margaux Leroy, and Maxence Petit joined Winter and their teachers, Eric Coudu and Pascale Kissel, to note their takes on immersion in the American suburbs. The students ranged in age from 15 to 17, and from 5 to 7 years' worth of English lessons. Greffine was the sole traveler in this group who had already been to the U.S., able to boast of traveling with other exchange programs to, among other places, New York, Florida, and Kansas, which he termed "HOT!" (Assumed to be air temperature, given it was a summer trip.)
Asked about the most notable difference the students picked up between American and French high school classes, each instantly nodded when Claire Leportier quickly answered, "The Pledge of Allegiance." Leportier considered the brief explanation of the scattered controversies over the Pledge, along with those who do not stand for the national anthem, but shrugged it all with,"I think it's [the Pledge] cool."
Also widely agreed upon was that the biggest positive Americans seem to enjoy is what Leportier termed the country's "way of life." She added, "People are really sweet, they're so welcoming." Elaborating on this warm complement, Maxence Petit remarked, "You have so much freedom; you run your own government." Asked about French democracy, Petit grinned, "It's not like here."
On the livelier side of American democracy, questioned on whether they watched the Oct. 9 "town hall" presidential debate, all the students nodded — with wide eyes  and some biting of lower lips. Teacher Eric Coudu sidestepped commentary under protection of the Geneva Convention. But, nonplussed again, Leportier pointed to a certain French politician and maintained, "We have the same thing going on."
Back in the school room, Leportier spoke of the long school day —about 8am to 5:30pm — French students weather, though Petit stressed that the breaks between classes are substantially longer than at Nashoba. Teacher Pascale Kissel mentioned that classes are not leveled according to ability, as they are at NRHS. Given the French education system, students at La Providence are expected to head for college anyway, while counterparts in vocational high schools and work apprenticeship programs probably will not, she said.
A World-Wide Concern
There is a common concern held by both French and American teens, something that has been underscored by terrorist attacks throughout France and the rest of Europe over the past few years. Christine Winter explained that the latest attack — the murder of a French priest in Normandy last summer by followers of ISIS — was especially rattling to La Providence students, given Dieppe's proximity to the assault.
Students noted that, after that attack, the atmosphere changed around school and in the town. Leportier said students are no longer allowed to leave school grounds "without justification;" Greffine mentioned there has been a larger police presence on the streets since the summer. And, pointing to the emergency protocols taped by Winter's classroom door, Kissel reported all of La Providence's classrooms now are required to have similar instructions on their walls.
While the students shake their heads over the idea of living with the threat of terrorism, each one smiled at their future plans for college; Journalism (Margaux Leroy), Special Education (Leportier), and History (both Greffine and Petit). And, the group was enthused about heading for New York City for a few days.
Incidentally, the very short list of American dislikes thus far includes television — specifically, said Greffine, "commercials."