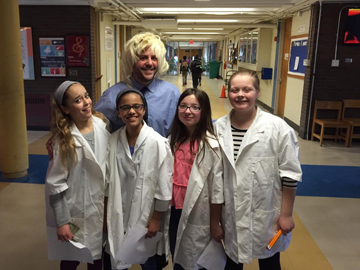 By Kristin DeJohn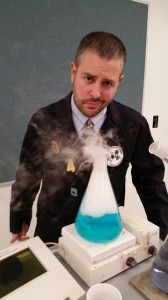 If you think math is a dull subject, you have not been watching the "Math with Matthew" videos produced by Bolton resident Matthew Beyranevand. The catchy TV segments look like "Kids Bop" style videos. The pop artist tunes sound the same, but instead of lyrics about love and drama, the talented young singers wax on about topics like pi and polygons.
"Teachers like seeing them and sharing them with the kids," said Beyranevand in a recent WCVB-TV episode of "Chronicle."
As Math and Science Coordinator for the Chelmsford Public School District, Beyranevand says the effort picked up steam after their first video received 75-thousand hits on YouTube. Since then, the crew has been featured on a variety of local media outlets. Beyranevand has his own website and employs various media platforms to get students and educators excited about learning and teaching math and science. The Bolton Independent recently had a chance to talk with him about some of his math projects and upcoming events.
BOLTON INDEPENDENT: What's the latest 'Math with Matthew' endeavor?
Matthew Beyranevand: On Saturday, Oct. 15 at 2 p.m. at the Barnes and Noble in Nashua, New Hampshire, I will be hosting a  Math with Matthew  educator event for teachers, families, and kids.  There will be a math education interactive workshop as well as live performances of some of the  Math with Matthew songs.  Anyone from Bolton is welcome to attend.
BI: What got you first thinking about creating math videos?
Beyranevand: I started making a public access television show for the Chelmsford public schools five years ago as a way to inform the parents and community about all the great things happening with the schools related to math. One method that I used was to videotape teachers and children doing math lessons and play music over the clips.  This slowly turned into making our own lyrics to famous songs with the first one turning the Beatles classic "All you need is Love" to "All you need is Math." Since that time we have made seven different music videos and hope to make a few more this year.
BI: Describe the video shoots? Are there local kids involved?
Beyranevand: There is a lot of planning that goes into the creation of the songs and the videos.  We begin with the idea for a song and concept.  The ideas come from teachers, students, and we even get some from people who are just fans of the songs who write in with ideas for future songs.   We then write the lyrics and record the songs at Night Train Studios in Westford.  We then storyboard ideas for the music video and recruit a cast of students and teachers to participate both on camera as well as behind the scenes.  Most of the participants are from Chelmsford, but we have had a few Bolton students participate in one of the music videos.
BI: How do the videos impact students' attitudes about math?
Beyranevand: I began a research study to determine the effects that this has on students' attitude and interest in learning math.  Although it was a small scale study, the results on impact of the music videos, as well as the infusion of pop culture into mathematics lessons, was remarkable.  Watching my math music videos, as well as other ones shared on the internet, can immediately turn students' attitude about learning math in a very significant way.
BI: How do parent attitudes about math factor into learning?
Beyranevand: Parents play as big a role in the child's attitude of learning math as teachers do.  It is important for parents to promote a growth mindset in their children to celebrate mistakes as an opportunity to grow, to encourage perseverance through difficult practice, and to refrain from saying things like "I'm not good at math."
Common Core standards are often debated. Explain why curriculum today shows math so much differently than we experienced as kids.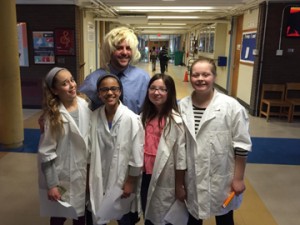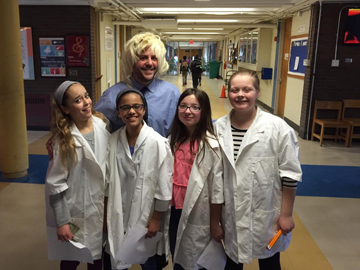 When we learned math, it was strictly procedural fluency in which there was little to no understanding about why or how we were doing the math. Today, we try and emphasize conceptual understanding of the concepts in addition to procedural fluency.  Being able to solve the same problem multiple ways and represent the same concept multiple ways is a big part of the new standards and is prioritized in most new curriculum. Within the Chelmsford Public Schools, we have partnered with Harvard University Graduate School of Education Professor Jon Star to investigate the impact of multiple strategies for solving algebra problems.
(www.gse.harvard.edu/news/16/09/how-algebra-taught-can-make-difference/
BI: Do you have advice for parents trying to support math literacy at home?
Beyranevand: We spend much of our time at home supporting reading and writing and should consider also supporting mathematical literacy.  This could be playing intellectually stimulating games such as Cribbage, Yahtzee, Math Dice Jr., and others.  Also if in the car driving to an event, spend five minutes practice skip counting to build fact fluency.  Finally, there are countless websites and apps that promote math literacy in an engaging manner.
BI:  Where can readers learn more about your effort?
Beyranevand: My website, www.mathwithmatthew.com, has many resources for parents and teachers including the math music videos, a video blog discussing issues like growth mindset, Common Core Math, and Math Literacy, as well as a math education podcast.
You can follow Math with Matthew on Twitter: @Mathwithmatthew and on
Facebook: www.facebook.com/mathwithmatthew