By Michael James LeClair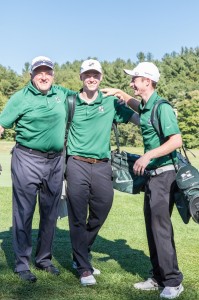 After a tough start to the 2016 season, the Nashoba Regional golf team has righted the ship.
The Chieftains made it four straight wins with a 30-24 victory over Westborough High School on Thursday afternoon at Twin Springs Golf Course.
Since opening the season with back to back losses, Nashoba has been victorious in its last four matches.
"I expected this one to be a close one; Westborough has been very good for a lot of years. I was joking around with their coach when I told him we usually beat them about once a decade," joked Nashoba head coach Dennis Bean following Thursday's win against the Rangers. "It was a good match, obviously our top kids came out and gave us a big lead and our middle group let the lead slip a little bit but it all worked out for us in the end. Westborough played really well themselves, they were tough they usually are."
Nashoba junior Cam Roberts and senior Dean Anastas led the way for the home team as they both finished the afternoon by shooting an even par 34 on the nine-hole course.
"This was a good win for us. I felt pretty good out there and as a team I thought we played pretty well," said Roberts following his performance on Thursday.
"Westborough is a good team but we felt more comfortable playing them here on our home course. There were a couple areas of my game I could have improved on but I thought I played a pretty solid round and my teammates did also."
Nashoba's Jack DiGeronimo shot a 39 and teammates Max Quinn and Brandon Gillis, Jameson Brideau turned in scores of 41, 39 and 45 respectively.
"It doesn't matter if you're winning the points in the first group or in the last group, they all count and they all add up the same," said Bean. "The boys are playing well right now. We had a rough start losing the first two matches of the season but I really like what I've seen these last four matches and I like the direction we're going."
The Chieftains kicked off the 2016 season with losses to Groton-Dunstable and Algonquin Regional before getting the better of Marlborough, Tahanto Regional, Shrewsbury and Westborough.
"It's really a team effort from this group. The scores are really good all the way down the list," said Bean. "The key is you have to come out and win your matches at home. In our division with tough teams like Groton-Dunstable, Marlborough, Westborough to name a couple, we have to beat them at home because it's difficult to go on the road and beat them on their home course."
In addition to the six golfers that earned points, Nashoba also carries two additional golfers. Andy Gillis and Kyle Kapopoulos were alternates on Thursday and shot a 42 and a 44 respectively.
"We got some really good scores from our top players and all the way down to our freshmen. For us, anyone in our top six can consistently shoot in the 30's," said Roberts. "We have a really talented group this year and it's a great experience and really fun to get to play with these guys on a daily basis."
When asked about the condition of the course on Thursday, Roberts spoke nothing but positive comments about the Twin Springs course.
The condition of the course is really nice," said Roberts. "The grass is in great shape and the greens are running really well."