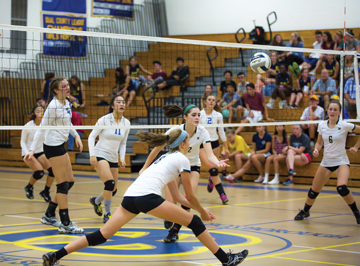 By Michael James LeClair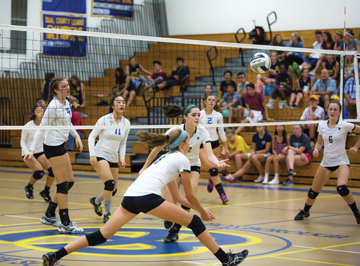 The fire that the Nashoba Regional girls' volleyball team had to jump into to open the 2016 season remained red hot on Thursday afternoon.
After opening the campaign on the road against perennial power Algonquin Regional Tuesday evening, the Chieftains followed up heading East down Route 2 to Acton-Boxborough Regional High School.
Nashoba showed heart and plenty of grit; however the hosts were just too powerful as A-B cruised to a 3-0 victory by scores of 25-12, 25-14 and 25-17.
"I thought these guys (Acton-Boxborough) were better than Algonquin," said Nashoba head coach Johnna Doyle following Thursday's defeat that left the Chieftains at 0-2 overall. "Algonquin killed us with their middles but these guys are so much deeper with talent all the way around."
It's been a tough start to the season but Doyle and her Chieftains are hoping they can right the ship and put together another successful campaign this year, similar to the one they experienced in 2015.
Last year, the Chieftains finished the regular season with a 15-5 overall record and were awarded the seventh seed in the Central/West Division 1 Tournament. Nashoba dropped a heartbreaking 3-2 decision to No.10 Shrewsbury in the first round to finish the year with a 15-6 record.
"We lost six players to graduation and so we had some holes to fill. We have a lot of new girls in there, so communication is really important," said Doyle. "It will come. There are areas we need to continue to work on when we get back to practice but there are several positives that I've seen from this group."
As for Thursday's contest, the Chieftains were playing shorthanded with a couple of key players out of the lineup due to illness. Despite not being at full strength, the Chieftains hung tough early on in all three sets. Unfortunately for Nashoba, the hosts showed their depth and strength as they used some big runs to put each set away.
The opening set was tied at five early on thanks to some solid service from Jordan Bricknell and a strong net presence courtesy of Victoria Tuttle. However a 6-0 run from A-B opened an 11-5 lead and Nashoba couldn't recover as the Colonials showed some fantastic service skills and a crushing ability to finish around the net. The hosts expanded the lead to 21-7 on their way to a 25-12 win to draw first blood in the match.
In the second set it was a similar start, A-B started with a 3-1 lead but Nashoba rattled off the next four points to grab a 5-4 advantage. The mini run was highlighted by huge blocks from Meaghan McCarthy and Abigail Recko.
Once again though A-B put together a rally and went on the attack. A quick 8-3 run gave the home team a 12-8 lead.
"I didn't care what the score was, I wanted the girls to give their all on every single ball," said Doyle. "I'm trying to pound into them that every single point is important, every single point we put on the scoreboard matters. I thought the girls showed a lot of heart today."
The Chieftains worked hard to try to stay with A-B the remainder of the set but a A-B would score 10 of the next 14 points to put the set away as the Colonials eventually secured a 25-14 win and push Nashoba's backs against the proverbial wall.
In the third set the Chieftains looked like a team that had run out of gas. With the set tied at five, A-B once again went to work. The Colonials strung together point after point as they netted 17 of the next 22 points to make it a 22-10 lead.
The hosts pushed it to match point at 24-12 but Nashoba refused to go down quietly. The Chieftains battled, scoring the next five points to pull within 24-17. The run was lead by some impressive service from Sophia Naroian which included an ace. Unfortunately for the Chieftains the deficit was insurmountable as A-B registered the final point to notch a 25-17 win and a three-set sweep.
"The biggest thing I took away from today was the fact that the girls didn't give up like we did on Tuesday against Algonquin," said Doyle. "Today, we hung in there for the first set and for most of the second set. In the third set we rallied at the end and went down fighting."
Doyle was very happy with the emergence of sophomore Brie Donohue. "She did a great job stepping in for senior Brynne McConnell with two kills and 2 blocks," said Doyle. "Freshman setter Marissa Cloutier had a kill, three set assists and eight digs. She proved she could hang with the big kids filling in for junior Haley Neff."
Doyle's charges visited Leominster on Monday evening, earning their first win, taking all three sets (25-15, 25,16, 25-11). Nashoba moves to 1-2 (0-0 in league).