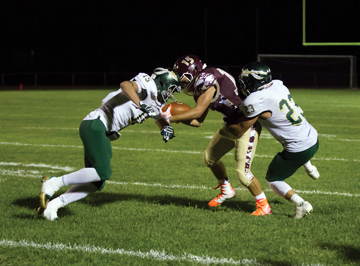 By Michael James LeClair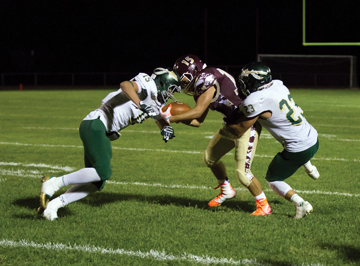 There's something about success in sports. The more you have and the more you win, the more opponents want to beat you. That's the case with the Nashoba Regional football team right now.
The defending Massachusetts Division 2 state champion Chieftains without a doubt enter the 2016 season with a bulls eye on their backs as every team they play will want to take them down.
On Friday night the Chieftains traveled to Northborough to take on host Algonquin Regional.
The Tomahawks, no slouches themselves, didn't treat their guests very kindly as Algonquin brought an end to Nashoba's 17-game winning streak by a 13-7 final score Friday night.
With the loss the Chieftains are now 0-1 while Algonquin is 1-0.
"The first game of the year is always tricky because you don't have much information on the other team like you normally would later in the year," Nashoba head coach Jamie Tucker said after the game. "I think they played a good game tonight and had a good game plan for us."
The Chieftains dug themselves a 13-0 hole as Algonquin scored 10 points in the second quarter on a Max Cerasoli touchdown run and a John Polymeros 20-yard field goal. Polymeros added a 31-yard field goal in the fourth quarter to make it a 13-point advantage before Nashoba's Nate Mansour ran back an 85-yard kickoff for a touchdown to put the Chieftains on the board.
Friday night's win for the T-Hawks avenges last year's 12-7 season opening loss to the host Chieftains in Bolton.
Nashoba returns to action this Friday night when Shrewsbury makes the trip up Route 190 North to Bolton for the Chieftains home opener. The Colonials made the trip to Bolton fresh off their 34-27 victory over the Rams of Shepherd Hill Regional on Friday night in their season opener.
The Chieftains had an opportunity in the opening minutes of the first quarter when they recovered an Algonquin fumble just one play into the contest at the T-Hawks 34-yard line. However Nashoba squandered the chance by turning the ball over on downs.
The hosts rattled off the next 13 points beginning with Cerasoli's touchdown with 10:08 left in the half.
Nashoba struggled all evening long to move the football and put points on the board. With the hosts holding a 13-0 lead following Polymeros's second field goal of the night with 8:55 remaining in the fourth quarter, Mansour found a seam in the Algonquin special teams coverage during the kickoff and was off to the races as he rumbled 85 yards to paydirt.
Alex Childs added the extra point to make it 13-7, which concluded the scoring for the remainder of the game.