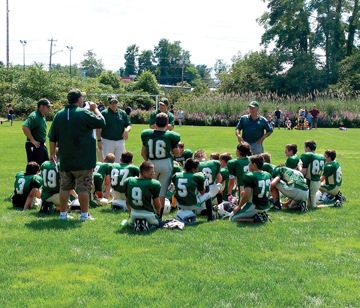 By Michael James LeClair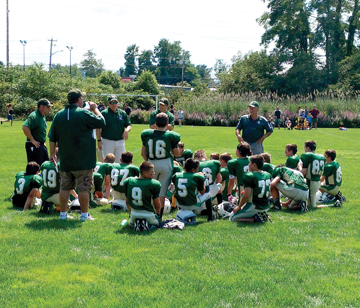 Who's ready for some football? The members of the Nashoba Youth Football and Cheer Association certainly are.
On Saturday, the NYFC officially kicked off the 2016 fall season by partaking in the Central Massachusetts Youth Football Conference North Jamboree at the St. Bernard's Bernardian Bowl in Fitchburg.
All three Chiefs football squads and its cheerleaders took to the fields on Saturday in preparation for next week's season opening games.
"Our league is a strong league with several coaches that have been with us for a while. Our numbers aren't really high, like a lot of small towns; ideally we'd have a team for every grade level but that isn't the case this year," said NYFC first-year president Mike Guthrie. "We have three teams with 20-25 kids each so the program is good; we're in a good spot right now, health wise."
Along with being the league president, Guthrie, a Stow native, is also the head coach of the Chiefs fifth/sixth grade squad.  In addition to Guthrie's team, the Chieftains also field a younger squad made up of second, third and fourth graders and an older team with seventh and eighth graders.
"This was fun, the kids played hard and they did a really good job," said Guthrie, whose charges open the regular season next weekend with a road contest against Charlton/Dudley. "The kids have been working hard since the first week of August and it was nice to see them come out here and put it all together."
Saturday's jamboree, hosted by Leominster Youth Football Association, featured mini-games all day, beginning at 8:00 a.m. and running through 5:00 p.m. Two full-length fields were divided into two 40-yard fields so that four teams and two games could be played simultaneously.   Close to 90 teams from over 20 Central Massachusetts organizations passed through the gate during the course of the day.
Guthrie's fifth and sixth grade team was pitted against West Boylston while the seond-through-fourth grade Chiefs team played Clinton and the seventh-eighth grade team capped the afternoon against Tyngsborough.
"For the amount of time some of these kids have played ball, I'm super proud of them and what they were able to accomplish today. We're playing up to a fourth grade level so a lot of the teams we're playing are only fourth grade players," said Bill Sanger, who is the head coach of the younger Chiefs squad. "We have about three second graders and most of our team is third graders with a couple fourth graders in there as well so we are a young team."
Sanger said he was thrilled with what he saw out of his players on both sides of the ball on Saturday against the Gaels.
"With some kids that have never played organized ball before and not knowing what the positions were, for them to be able to come out here and run plays on their own, makes me super proud of them," said Sanger, whose troops travel to Worcester to start the season next weekend. "This was our second scrimmage of the season and we open up next week. We don't have captains on this team because I want all the kids to take ownership. You don't have to be a captain to be a leader. We want to keep everybody safe, teach these kids proper fundamentals and above all else to have fun." The Chiefs head coach said that his squad had scrimmaged Hudson a week earlier.
As for the older players, the seventh and eighth grade team, it locked horns with the Tigers of Tyngsborough. The Nashoba unit is head coached by Joe McLauglin and, even though he was unavailable for comment, Guthrie took a minute to pass along praise and talk about the direction of the entire Nashoba Youth Football program.
"We're just trying to build on last year. Kids are growing, getting a little bit bigger and faster," said Guthrie. "It's not all about the wins, we just want to try and get better every week and getting these kids ready to go up to the high school and let them win the state championships."
The Nashoba seventh and eighth grade team kicks off its regular season next weekend when it visits Charlton/Dudley.
While the focus may have been on the football played on the field, Guthrie wanted to make sure that the Nashoba cheerleaders get the credit they deserve as well.
"The cheerleaders put a lot of work into it, just like the football players. We have multiple cheerleading teams that come out and do a great job. They are also take part in competitions later in the season," said Guthrie. "I can't say enough about the girls. They do a great job keeping up the spirit and we're very happy to have them out there."