By Lynda King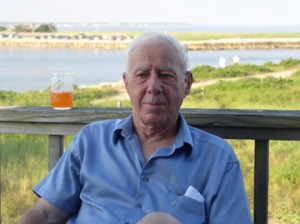 By all accounts, Gigi Bonazzoli was a legend in Bolton. He passed away on April 25, after a long battle with cancer, leaving behind a legacy that has reached far and wide.
Gigi was a rare breed, in this age of the mobile society, where people move to a town for a short time—maybe because of a job change or a search for better schools—and leave for perceived greener pastures when retirement comes or the kids graduate. Gigi lived in Bolton all of his 89 years and served it well and faithfully, according to anyone you ask, no matter what was going on in his own life.
Gigi served with the Bolton Fire Department for 65 years,  from 1945 to 2010. During that time, he became a founding member of the Bolton Ambulance Squad, serving with the team from 1965 to 2010. He was also a founding member of the Nashoba Regional High School Emergency Medical Technician (EMT) cadet program in 1988, a program that was his passion for 15 years. And somehow, during all those years, he also found time to serve as a Bolton selectman, from 1969 to 1978.
Service as a family tradition
Gigi learned about service at an early age. His father, Prino, served as chief of police in Bolton from 1943 to 1953. For a time, Gigi, then 16, accompanied his father when he responded to accident calls in town. That was also about the time he left to join the Navy. Gigi served as a gunner on the USS Twining for two years during World War II, during which time the ship was engaged in the Battle of Okinawa, the last and biggest of the Pacific Island battles in the war.
After the departure of Bolton's police chief in 1964, Prino was asked to step in as interim chief during the search for a new one. According to an account by Bolton town historian Roger Breeze, it was during this time that a young Bolton boy died while emergency responders raced to get him to the hospital. That incident prompted Prino to purchase the town's first ambulance—a used 1952 Cadillac from Smith's Garage, with $500 of his own money.
A year later, Gigi was among the group of founders who started the Bolton Ambulance Squad. And it was in that service, in particular, where his influence was most keenly felt.
Impact on the community
Chip Durant, a lieutenant in Bolton's Fire and EMS departments, started working with Gigi in the Fire Department in 1985. Durant worked with Gigi for many years, and told the Independent this week that Gigi's influence inspired him to serve the community as Gigi did.
Durant said, "Gigi was like a father figure to a lot of us at the department, a person you knew you could go to … He was always there for everybody; his door was always open."
Andy Bagdonas, a former Bolton police officer and current assistant ambulance director, met Gigi in 1987 when, a year out of high school, he joined the ambulance squad. For a time, he said, he went on just about every ambulance call with Gigi, and came to know him well.
"He was always looking out for everybody," Bagdonas said. "He treated you like an equal, like a family member. He was always buying coffee for squad members after a run, and there was never a question about who was paying."
Bagdonas described Gigi's concern and respect for his colleagues on the squad, saying Gigi always referred to them as either "dear" or "son." And, Bagdonas said, "He gave people chances, opportunities to make themselves better."
Reflecting on Gigi's most important accomplishment in town, Bagdonas quickly answered, "His leadership in the Nashoba [EMT cadet] program."
Bagdonas said, "It's staggering how many people have come out of that program and ended up in the medical field. They were—and still are—young adults doing a phenomenal job."
Bolton Police Chief Warren Nelson agreed. "Starting the EMT cadet program at the high school was his major accomplishment, I think," Nelson said this week.
He explained, "As Bolton changed and started losing farmers who could cover the ambulance just about any time it was needed, the all-volunteer ambulance squad eventually had no daytime coverage. The cadet program provided that coverage."
Nelson told the Independent he came to know Gigi through his dealings with the fire and ambulance squads when he joined the Bolton police force 23 years ago.
"He was known around here as 'Mr. Ambulance,' Nelson said, "but to me he was 'Mr. Reliable,' 'Mr. Dedicated.' He was at almost every ambulance call. You could just about guarantee that he'd show up. He was an amazing guy."
"Gigi had a close-knit family," Nelson said, "and he loved the town of Bolton as much as his family."
Rev. Richard Jones, pastor at the First Parish Church that Gigi and his wife, Shirley, called home since their marriage there in 1951, echoed that sentiment. He said, "There was a genuine concern on his part for everyone in this community. He took the care of this community as a very personal responsibility."
Jones, who has been pastor at First Parish for more than 20 years, viewed Gigi as a mentor, who taught him, "It's never about you; it's always about the other; that we do things not to feel better about ourselves, but rather out of a profound sense of responsibility to those with whom our lives are connected."
Bagdonas said he learned throughout the years how personally Gigi took his responsibilities in town. "I've probably been on every ambulance buy committee since 1988," he said. "Gigi would study the specs and details of every piece of equipment under consideration. When it came to buying safety equipment, it had to do what we needed it to do, and had to be the best value for the town."
Echoing that description, Jones said, "Gigi represented a stewardship of the town that was based on what was good for the whole town. He never had an agenda. He worked toward what was good for all."
Commenting on Gigi's dedication, Jones said, "He grew up here and never wanted to leave. He was among the last of a generation."
Category: FEATURES