By Nan Shnitzler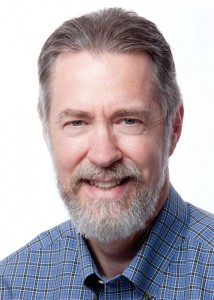 Wilder Road resident Richard Fly, 62, is up for reelection as Town Moderator without ever having run a Town Meeting because Town Election comes a week after Town Meeting every year. Fly did preside over his first Town Caucus March 9.
Bolton Independent: Were you nervous?
Richard Fly: I'm a natural ham, so standing in front of a crowd is not a big deal for me.
BI: Before you were elected, you were Jim Anker's assistant moderator. How did that come about?
RF: A couple years before Jim decided to retire, he had cast about for an assistant moderator in case he couldn't attend a Town Meeting or there was overflow into a second room. Jim suggested I might be interested in being the assistant, and I said yes I would be interested. It gave me the opportunity to learn at the master's feet. I ended up having no responsibilities whatsoever.
BI: What appealed to you about the Town Moderator role?
RF: When Jim retired, I got some inquiries. At first, I wasn't sure. At the time I was vice president of communications at CA Technologies and doing some traveling for work. But Town Meeting is only one time a year; Bolton doesn't have a lot of extra Town Meetings. I thought it would be a good opportunity to serve the town and stay involved.
BI: Jim Anker was captivated by the direct democracy of Town Meeting. Can you relate to that?
RF: I grew up in large communities. Everything was taken care of by city councils. Town Meeting is a unique way of governing in America, and I knew it was something I wanted to be a part of. While it can create tension in a community, I think it's a lot better when people get together and hash things out rather than leave them to representatives. You might not like the outcome, but at least you had a role in it.
BI: This isn't your first town gig?
RF: I was on the Advisory Committee for a couple of budget cycles and then was elected to the school committee in 2007. I ran for selectman in 2010 and lost by seven votes. Bolton was the third town where I was on the school committee. When I worked for Travelers insurance in Hartford, I was on the school committee in Suffield, Conn. When I came to Mass. to work for Digital Equipment Corporation, we lived in Boylston where I was a write-in candidate. There was a kerfuffle over something at the school, and they drafted me to run against the incumbent and I won.
BI: How have you prepared to preside over Town Meeting?
RF: I matriculated at the school of moderators with Jim Anker. I have such admiration for Jim and the job he did in presiding over Town Meeting and handling all the circumstances, both tense and routine. I got a stack of material from Jim that covered how he handed his preparation, so passing along that knowledge was a big help. But that can get you only so far. Now I'm in the process of memorizing "Town Meeting Time."
BI: Really?
RF: Nope. But I am trying to learn enough so nothing will surprise me.
BI: What about the moderators' listserv?
RF: I'm an ardent reader of the Gavel Line. Lots of interesting situations come up on it. I also went to the Mass. Moderators annual meeting this past October. There was a session for new moderators. They help you understand the parliamentary nature of it and the different issues that come up.
BI: Last year, the selectmen discussed live cablecasting of annual Town Meeting. What's your position?
RF: What makes Town Meeting is as many residents as possible gathered together in one place to conduct the town's legislative business. I would hope people would come in person. If people can watch it live on TV, it could have a negative affect on attendance, especially if no particular issue is driving them to attend. Or, those who do have a pet issue could rush to attend in time for the vote.
If you watch Congress on C-SPAN, lots of stuff gets done on the House floor with a minimal number of people in attendance. The times that 435 representatives are there are sparse, only if there's some huge debate or important vote. But the beauty of Town Meeting is it's a point in time where we sit together to decide a host of issues. Having the most people there in person is the best use of that process. I wish more would come and play a role. But I understand it's not everyone's cup of tea. Maybe we could try it live one year to see what happens. But I don't have a firm conclusion at the moment.
BI: How will you know when to cut off debate? One year, a selectman was left hanging in line for the microphone.
RF: If the discussion goes back to points previously raised, or if the debate drones on endlessly, it's not using the town's time wisely. I think the moderator needs to have a feeling for the points being expressed. If the moderator sees people getting fidgety and not paying attention as they hear the same arguments over and over, the time has come for a vote. You want to be as efficient as possible while allowing different points of view. Trying to get as much done in the least amount of time is in everybody's best interest.
BI: I was always fascinated by Jim Anker's confidence in discerning a two-thirds majority voice vote. How's your hearing?
RF: My hearing is fine. I can hear at least two thirds.
BI: Speaking of voices, you have a soft drawl.
RF: I was born in Dallas and raised in Austin. Out of college at University of Texas at Austin, I was a journalist. I covered Houston city politics, Austin state politics and went to Washington for the Dallas Times Herald and covered Congress. With Reagan's '84 reelection, I covered the White House. . Early in '86 I moved to Business Week as the White House and national political correspondent.
BI: How did you arrive in Bolton?
RF: When we decided to move closer to Susan, my wife's, family in Massachusetts, I worked in Hartford for Travelers. When Travelers was bought out, my old boss hired me at Digital in Maynard. I was in
high tech from then on. I started in public relations and moved into speech writing and corporate and internal communications. When Digital merged with Compaq, we moved to Houston. When Compaq and Hewlett-Packard (HP) merged, we moved back. In 2002, we found the ideal house in Bolton. I left HP the next year, took a couple of months off, and then started as a consultant. I had my own business for six years with HP as a primary client.
BI: You didn't burn any bridges.
RF: There are always opportunities to work with people again. I left CA Technologies last summer and have my own business again, Exec Comm Strategies.
BI: What do you do for fun?
RF: I play golf. I garden. I'm the vegetable gardener in the family. We travel. We visited our daughter in New Zealand when she did her semester abroad in college. She graduated from Nashoba in 2006. Our son is a sophomore at Champlain College in Burlington, Vt.
BI: There's good skiing in New Zealand.
RF: I'm not much of a winter sports person. I shovel snow.
Category: NEWS