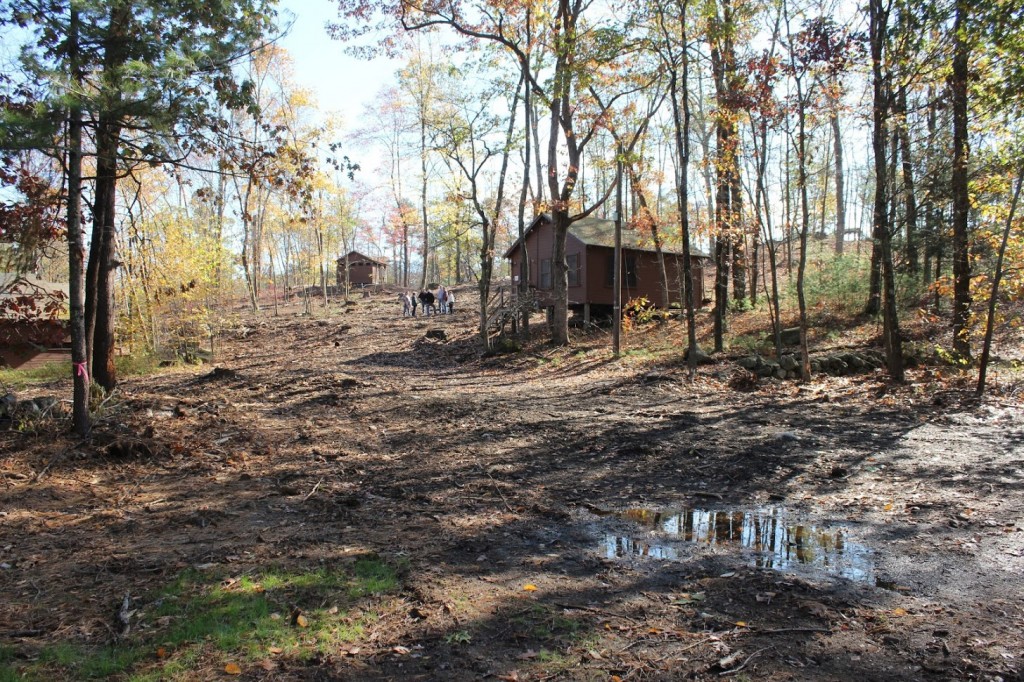 By Cyndy Bremer
A public tour of Camp Virginia, the possible purchase of which is the subject of an upcoming Special Town Meeting, was held on Oct. 28. According to Ken Troup, who has headed up an ad hoc group to pursue purchase of the former Girl Scout camp, there were approximately 50 visitors who came to learn more about the property.
Commenting on the recent tree-cutting on the property, Troup said the Girl Scouts told him the Forest Management Plan had been in the works for several years. If the town were to purchase the property, he envisioned utilizing some of the mulch-like debris left behind to line paths and for erosion control. For the wood left behind, he envisioned an opportunity for residents to gather wood to take home for burning. There was no plan for stump removal.
Pictured above, a tour group is seen near a cabin on the property that Troup described as being in good condition, set up with heat, electricity and water sources. He said the group envisioned this as a potential office and/or caretaker's cabin. Further up the hill is one of three open pavilions on the property. He said that each pavillion has a source of electricity, an enclosed area and a handwashing station/bathroom nearby. He described two of the three pavilions as "in good condition" and the third as "ok."
Pictured below is the waterfront area of the camp, with what had been used as a camp infirmary on the left. Troup said the building was in "good shape" and still usable. The group had talked about the possibility of using it as some kind of concession stand if the town purchase goes through. The building seen closer to the water is another pavilion with changing rooms.
Photos Courtesy of Ken Horton; More of Ken's photos here